If you think the NFL has a short season compared to the NBA and major-league baseball, consider the length of the kayaking season in Lawrence.
Currently, there are only 15 to 20 available days per year for kayaking on the Wakarusa River, said Shawn Tolivar, president of the Kansas Whitewater Assn. Talk about a short season.
Tolivar and the KWA are looking to double that number by next spring, with the addition of a whitewater park on the Wakarusa River.
Even though it would be considered a park, this would not be a theme park similar to Oceans of Fun in Kansas City, Mo. Tolivar said it would, however, increase Lawrence's recreational activity for kayaking, swimming, tubing, wakeboarding and bodyboarding.
"Every professional kayaker drives through Lawrence every year, and they have no reason to stop, until now," Tolivar said. "It's not really so much building as it is just modifying what we currently have with the structure of the land and water there."
Another reason the KWA wants to build the park is a lack of nearby whitewater facilities. Tolivar said the closest whitewater park to Lawrence was six or seven hours away in Arkansas or Colorado.
Photo Gallery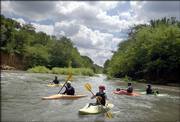 Kayakers
The KWA will take two steps to create the park. The first step is completed.
The association already has built stairs and a gravel trail - about 50 yards long - that lead to the river from Clinton Lake Outlet Park. Tolivar said the trail that used to lead to the river had eroded over time to the point it looked like a mud hill.
The second step will be to work with the U.S. Army Corps of Engineers to increase water flow in the river. Tolivar said the corps - which controls the river's flow - currently releases 20-40 cubic feet per second from the dam.
This isn't nearly enough for kayaking, which requires nearly 800 cubic feet per second.
Tolivar said the KWA hoped to set water levels for the park from the amount of water the corps of engineers already is releasing. The KWA will not request more water release from the corps.
Reasons for adjusting the water flow of the river are for purposes of safety, Tolivar said. Downstream water in the river currently rushes back upstream, creating a circular hole. Tolivar said objects could get stuck permanently. With high water levels, this would be less likely to happen.
The KWA will minimize cost.
Tolivar didn't have a specific figure in mind, but said he would rely heavily on KWA volunteers who donate their time and offer ideas for design. Tolivar also will rely on volunteers from the corps of engineers at Clinton Lake. If all goes well, the KWA will have the park completed by the end of next year.
Copyright 2018 The Lawrence Journal-World. All rights reserved. This material may not be published, broadcast, rewritten or redistributed. We strive to uphold our values for every story published.