Beirut, Lebanon — International pressure mounted on the Bush administration Sunday to call for an immediate cease-fire in the hostilities between Israel and Hezbollah guerrillas as U.S. Secretary of State Condoleezza Rice headed to the region in search of a long-term solution to the 12-day-old conflict.
With no sign that the fighting is easing and U.S. officials making clear that Rice is unlikely to press for a cease-fire in her talks with Israeli officials, it seemed unlikely her mission would have an immediate impact on the violence in Lebanon and northern Israel. Rather, the diplomatic effort appears to be coalescing around future ways to secure the region after Israel's on-slaught against the militant Shiite Hezbollah movement is over, something Israeli generals have warned could take weeks.
In a sign that Israel was softening its position on proposals for a stabilization force to be deployed between the warring parties, Israel's defense minister said his nation would be prepared to accept an international peacekeeping force in southern Lebanon, which is currently under the control of Hezbollah's guerrillas.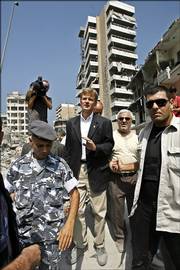 "Israel's goal is to see the Lebanese army deployed along the border with Israel, but we understand that we are talking about a weak army and that in the midterm period Israel will have to accept a multinational force," Defense Minister Amir Peretz told the visiting German Foreign Minister Frank-Walter Steinmeier, according to Israeli officials. Peretz expressed a preference for NATO forces, not United Nations peacekeepers, to be deployed in the border region, the officials said.
In Washington, U.S. officials also offered cautious endorsement of the idea of an international peacekeeping force, suggesting the first outlines of a solution to the crisis are beginning to take shape.
America's ambassador to the United Nations, John Bolton, said the U.S. was considering the suggestion for a multinational force, but that it would not support a U.N.-led operation. He said he did not expect U.S. forces to be involved, suggesting that a NATO-led force along the lines of the one currently deployed in Afghanistan may be under consideration.
"We have been looking carefully at the possibility of a multinational force, perhaps authorized by the Security Council, but not a U.N.-helmeted force," Bolton said.
"We haven't discussed the possibility of U.S. boots on the ground in Lebanon," he added. "The main point being to see that Hezbollah does not return to its armed, militant capacity threatening Israel and that the institutions of Lebanon cover the whole country."
Arabs' concerns
America's Arab allies added their voices to the calls for a cease-fire. The Saudi Foreign Minister Prince Saud al-Faisal met with Bush at the Oval Office and handed over a letter from King Abdullah asking Bush to intervene for an immediate cease-fire.
"We are requesting a cease-fire to allow for a cessation of hostilities," Saud told reporters after the meeting. Saudi Arabia had earlier made it clear that it has no sympathy for the Hezbollah fighters whose abduction of two Israeli soldiers triggered the Israeli attacks in Lebanon.
Syria also said it supported a cease-fire, in a sign that Lebanon's neighbor and one of Hezbollah's chief sponsors is seeking a role in the budding diplomatic effort. In remarks made in Madrid and carried by the official Syrian news agency, Syrian Information Minister Mohsen Bilal said Syria wants any cease-fire to form part of a comprehensive Middle East settlement that would include the return of the Golan Heights to Syria and a prisoner exchange between Hezbollah and the Israelis.
If Israel conducts a full-scale invasion of Lebanon, however, Syria will help its neighbor, he warned. "If Israel invades Lebanon and enters it by land ... then we will not stand with our hands tied," Bilal said.
Rice's itinerary
Rice has made it clear that she is unlikely to push for a cease-fire during her visit, except in the context of an overall settlement that includes the disarmament of Hezbollah.
A hasty cease-fire that would permit Hezbollah to survive intact with its weapons would only lead to a resumption of attacks against Israel in the future, Bush's chief of staff Josh Bolten said in Washington.
"The purpose is to maintain a sustainable cease-fire," he said. "It's sustainable only if we get to the root problem, which is Hezbollah, a terrorist organization."
The French foreign minister and Britain's foreign secretary were also in Israel for talks with Israeli officials as the international effort to seek a diplomatic solution intensified.
Rice will spend today meeting with Israeli leaders before heading to the West Bank for talks with Palestinian leaders. On Wednesday, she will host a gathering of Arab and other international leaders in Rome.
Copyright 2018 The Lawrence Journal-World. All rights reserved. This material may not be published, broadcast, rewritten or redistributed. We strive to uphold our values for every story published.