Wichita — After thousands of hours of volunteer restoration work, a historic bomber is less than two months away from being ready for public display.
The World War II-era Boeing B-29 Superfortress, built in Wichita, will be shown off Sept. 9-10 during an open house at McConnell Air Force Base.
"All of the volunteers are just thrilled about it," said United States Aviation Museum chief executive Tony Mazzolini. "We're all looking forward to having this happen."
The plane, thought to be the last of its kind that can be restored to flying condition, was delivered in 1945 and arrived in Wichita in 2000 after being rescued from a desert graveyard by Mazzolini. It is being restored at Boeing Wichita, which is donating hangar space for the effort.
"We want to do this in memory of the guys from World War II, both the people who built them, worked on them and flew them and gave the ultimate sacrifice in them," said Mazzolini.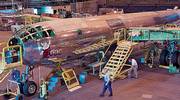 The B-29, nicknamed "Doc," was one of more than 1,600 built in Kansas from 1943 to 1946. It was part of a nine-plane squadron bearing the names of characters from the Walt Disney movie "Snow White."
The fuselage and wing section have been joined, and volunteers are now putting in the control cables and wiring and installing the outer wing section. The vertical stabilizer is also being restored, but the plane needs new fuel bladders and overhauls of its four engines.
In all, Mazzolini said, it will take another $1 million to $1.5 million.
"We think we have probably everything else in control," Mazzolini said.
Mazzolini has not set a date for the B-29's first flight after restoration, but he said it could be flying within one year if the resources materialize.
The plane will also need a permanent home, although the board of the Kansas Aviation Museum is discussing a $4 million hangar project for the B-29 and other vintage airplanes.
Teresa Day, the museum's director, said officials hope to launch the capital campaign by spring 2007.
Copyright 2018 The Associated Press. All rights reserved. This material may not be published, broadcast, rewritten or redistributed. We strive to uphold our values for every story published.