Los Angeles — An 18-year-old from Puerto Rico who hopes to someday star in U.S. and Latin American films has been crowned as Miss Universe 2006.
Zuleyka Rivera Mendoza shared a nervous emotional hug with first runner-up, Kurara Chibana of Japan, moments before the winner was announced, then clasped her hands to her mouth in amazement as her name was called Sunday night. She beamed as the crown was placed on her head.
"I always had faith and confidence in myself, but I never knew I was going to win," Rivera, speaking in Spanish from the stage, said in her first remarks as Miss Universe.
The winner, who is from Salinas, on the Caribbean island's southern coast, said she would continue the pageant's mission of promoting awareness and education about AIDS and HIV.
"I want to tell those people there's always problems in life, but there's always possibilities to improve things," she said.
Also finishing in the top five were second runner-up Lauriane Gillieron of Switzerland, third runner-up Lourdes Arevalos of Paraguay, and fourth runner-up Tara Conner of the United States.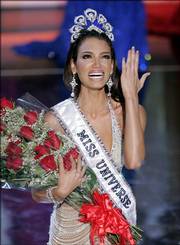 In her pageant biography, Rivera explained what made her different from the other contestants.
"Physically, I have been told by modeling agencies and friends that I represent the consummate Latino look," she said. "Everything in my face expresses our heritage, our music and the wonderful mixes of races that we are."
Rivera is the first winner from Puerto Rico since Denise Quinones in 2001, and the fifth overall in the pageant's 55-year history.
The field of 86 was actually narrowed to 20 last week during preliminary judging in the contest's swimsuit, evening gown and interview categories, but finalists weren't announced until Sunday's show was under way, allowing all 86 to be introduced to the television audience.
Lia Andrea Ramos of Philippines was chosen most photogenic in an online vote by the public. Angela Asare of Ghana won the congeniality award in a vote by all 86 contestants. Chibana, who carried an impressive looking Samurai sword, won the award for best national costume.
"They were probably afraid not to pick Miss Japan or she would use that sword," quipped Carson Kressley of TV's "Queer Eye," who provided commentary along with 2004 Miss USA Shandi Finnessey. Opera singer Vittorio Grigolo and Latin singer Chelo provided musical performances.
The pageant began with the top 20 finalists' names being announced early in the show. Then their scores were discarded and competition began again, with the field gradually narrowed throughout the night.
As soon as the final 20 had been selected, they immediately strutted across the stage in skimpy two-piece bikinis for the swimsuit competition.
After being narrowed to the final 10, the competition moved to evening gowns, with the smiling contestants walking across the stage to music provided by Grigolo.
The winner travels the world for a year on behalf of charities and pageant sponsors. Last year's winner, Natalie Glebova of Canada, crowned Rivera with a diamond-and-pearl-studded headpiece valued at $250,000.
"My year as Miss Universe has meant more to me than I can express," said Glebova, who began her reign with a trip to South Africa where she publicly took an HIV test.
"I have traveled the world on behalf of various HIV/AIDS organizations, promoting education, research and legislation, and I walk away from this experience feeling like I truly made an impact."
Copyright 2018 The Associated Press. All rights reserved. This material may not be published, broadcast, rewritten or redistributed. We strive to uphold our values for every story published.