Playing in Lawrence's parks isn't as dangerous as it used to be. Or, some say, as much fun.
When the city shut off the water earlier this month to keep youngsters from climbing on the South Park fountain during City Band concerts, the fountain became the latest in a string of landmarks in city parks once used for play but ultimately deemed unsafe.
City leaders say concerns about safety and injury lawsuits are greater now than they were in decades past, when the city boasted a real fire truck, locomotive and jet airplane among its climbing attractions for kids.
Today, even see-saws are considered too risky.
"We don't want something that might be attractive for kids to be dangerous for them," interim City Manager David Corliss said. "Our first focus is on safety. Is there a potential cost to taxpayers? Absolutely. Do we want to be mindful of it? Absolutely. But the first thing we want to do is make sure they're safe and not have an attraction that's potentially going to cause harm."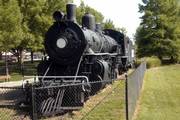 Here's a brief history of the dangerous, disappearing landmarks in Lawrence parks:
l In 1963, the Olathe Naval Station donated a Navy jet that was placed in Centennial Park. A photo from the time shows children climbing all over it. But it lasted less than a decade before the parks department had it removed because of concerns including "jagged pieces of metal."
l A 1917 fire truck once served as a jungle gym in South Park, but it was removed in the mid-1990s when the city realized there were too many places where children could fall through it. No one had been seriously hurt, but city leaders said they didn't want to take any chances.
l People used to be free to climb the locomotive in Watson Park, but in the 1990s it was fenced off so that only the cab was accessible. Now, a sign warns people that if they climb onto the train, they'll be prosecuted for trespassing.
A few landmarks-turned-hazards actually were designed as play equipment. A multi-tiered, rocket-like structure in Broken Arrow Park was removed in June 1992 after the city labeled it unsafe. It was sold for $410 to two Lake Dabinawa residents who planned to give it to their grandchildren to enjoy.
Lawrence resident Anne Broz remembers playing on the Broken Arrow rocket as a child in the late 1970s.
"I can imagine it was probably the most dangerous piece of equipment. It was 1978. Nobody cared," she said. "In 1978, if I'd fallen and cracked my head open, my mom would have said, 'Well, that was stupid,' and taken me to the hospital. She wouldn't have thought about suing the city."
Fred DeVictor, the city's parks superintendent, said that in some cases, pieces are removed from parks just because they're obsolete and too expensive to maintain. He said there were accidents from time to time on these landmarks, but he didn't know of any major injuries that led to claims against the city.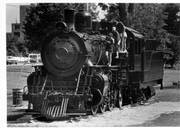 So how big of a concern should lawsuits really be for the city? After all, Kansas law states governments are not liable for injuries in parks and playgrounds, unless the government is guilty of "gross and wanton negligence."
Lawrence resident Don Strole, a personal injury lawyer, said a lawsuit is a legitimate concern.
"If you know accidents can happen and have happened on, say, the spaceship or the train, and then you don't do anything, it could easily be considered gross negligence," he said.
Strole said he thinks it's true that people are more likely to sue these days - something he attributes mostly to a changing society.
"I think more than anything else, there's not closeness like there used to be. Now, people don't even know who their neighbors are," he said. "You don't have any hesitancy to sue somebody who you don't know."
Copyright 2018 The Lawrence Journal-World. All rights reserved. This material may not be published, broadcast, rewritten or redistributed. We strive to uphold our values for every story published.