As he paddles toward rapidly falling water in the opposite direction, Kevin Burke knows what he's getting into.
He breathes heavily.
His boat hits the crashing waves, which have fallen six feet from the top of the ledge.
Now the real fun starts.
The boat momentarily takes Burke airborne, as if he's riding the waves. He flips the boat 360 degrees, and the waves surround him - to the point you can't see him for about three seconds. Then, he pops out of the river, still in his boat, and paddles away from the ledge. Time for the next challenger.
Burke, a Lawrence resident, was one of about 25 athletes who participated in the Paddle With the Pros kayaking event Saturday at Clinton Lake Outlet Park.
Burke, 22, said balance was an important part of his end-over-end 360, which is referred to as a loop in kayaking.
"You just want to keep your center of gravity over the boat, so even if it's tipped to one side, you need to compensate, and you always have your paddle for bracing," Burke said.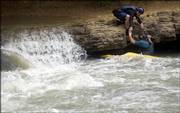 A spring Kansas University graduate, Burke said the possibility of a whitewater park in Lawrence seemed like an ideal fit.
"For a lot of people, this is a one-of-a-kind feature in the Midwest," Burke said. "A lot of people that are traveling east to west, this would be a great spot to drop in and bring lots of dollars into the economy."
Burke has been kayaking for two years. He said the sport had several advantages.
"In other sports, if you mess up, like in skateboarding, you might scratch yourself, you might break something. In this, if you mess up, you flip over, so it really lets you get out there and try whatever you want," Burke said.
Another impressive athlete from Saturday was Overland Park resident James Smith. The 37-year-old was the entertainer of the group, as evidenced when Smith prepared his boat for the water.
He had three people help his boat off the rocks and into the river. It was about a six-foot drop.
The trail that the Kansas Whitewater Assn. built that leads to the river has helped Smith especially. He's a paraplegic and more easily can navigate his wheelchair down to the river.
Smith explained how his technique in kayaking was the same as everyone else's.
"A lot of it is upper body, but not as much as you might think," Smith said. "A lot of it goes on inside of the boat, with your hips and foremuscles. You steer the boat with your hips. It takes a lot of practice."
Copyright 2018 The Lawrence Journal-World. All rights reserved. This material may not be published, broadcast, rewritten or redistributed. We strive to uphold our values for every story published.