Khayelitsha, South Africa — Bill and Melinda Gates came to the cramped tin shack of Nkosebaca Thingathinga one day this month to understand how the 61-year-old man had contracted tuberculosis - a major focus of research for the couple's foundation - an astounding four times.
But as they asked the man about his sickness, Khanyisa Thingathinga, 20, announced she had something else to talk about. "Since you are here," she said, "are you going to help our father? We are suffering. Are you going to help him have a right house?"
A "right house," she later explained, would be one with cinder-block walls rather than flimsy sheets of metal, a roof that kept out the rain and more than three rooms to hold 10 people. Even better would be a way out of Khayelitsha, a crowded and disease-ridden slum near Cape Town.
Yet here in Khayelitsha, as in similarly impoverished areas throughout the world, the almost unfathomable wealth of the Gateses met the reality of unlimited need. And though they did give the Thingathingas money that will pay for new walls and a roof, there will be no new house, no new rooms, no new address as a result of their interaction with a foundation that defines itself not just by what it does, but by what it chooses not to do.
The Bill & Melinda Gates Foundation, the successor to the 11-year-old William H. Gates Foundation, is the world's richest charity, with resources that eventually will double to $60 billion because of a gift last month from famed investor Warren Buffett. The Gateses say they will also eventually give "the bulk" of the rest of their wealth, estimated at more than $40 billion, to the foundation.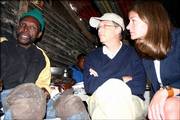 Despite its unprecedented resources, the foundation tends to avoid the broad-based approach of traditional aid programs, putting relatively little money into such popular and immediate causes as job training, road building, schooling African children, easing famines or - aside from rare cases such as the Thingathingas - improving housing.
Even in the sphere of global public health, the foundation's top focus, there are many things it avoids in favor of the development of potentially powerful new vaccines and drugs targeting the leading maladies in the poorest parts of the world.
Some of these are well-known - AIDS, malaria, tuberculosis. Some are obscure - Guinea worm, trypanosomiasis and cysticercosis, all parasitic diseases. But the more than $5 billion in grants devoted to global health so far reveal a striking faith in the transformative power of new technologies - a fact perhaps not surprising for a foundation created by Bill Gates, who revolutionized the computing world with a company started in a dorm room.
In explaining why the foundation has not invested heavily in delivering lifesaving antiretroviral drugs for AIDS, for example, Melinda Gates said that only governments have enough money to provide such costly treatments. An exception is Botswana, a sparsely populated country where the Gates Foundation has helped pay for some such drugs.
"Our role has to be a catalyst to get government funding into programs," she said recently during a stop in the tiny southern African country of Lesotho. "We don't begin to have enough money to (buy) antiretrovirals for every person who needs them today in Africa."
Copyright 2018 The Lawrence Journal-World. All rights reserved. This material may not be published, broadcast, rewritten or redistributed. We strive to uphold our values for every story published.