Hoylake, England — He tried too hard at the Masters, where he put the green jacket on Phil Mickelson. He wasn't ready at the U.S. Open, where he missed the cut.
But this week at Royal Liverpool, Tiger Woods played the perfect British Open for his late father, Earl. Woods' 11th major championship, tying Walter Hagen for second all-time behind Jack Nicklaus and his 18 titles, was won with steel-cold nerve and precision. Then it was celebrated with raw emotion.
Woods came off the 18th green Sunday after an incredible 5-under-par 67 for a 270 total and a two-shot victory over the gritty Chris DiMarco, and his feelings let loose. He sobbed, trembling while in the arms of his caddie, Steve Williams. Then he exchanged hugs and tears with wife Elin, coach Hank Haney and his entire traveling party.
What he would have liked most of all was one more hug from his father, who died on May 3 after shaping the career of the best player in the world.
"I'm kind of the one who bottles things up and moves on. At that moment it just came pouring out and of all the things that my father has meant to me and the game of golf, and I just wish he could have seen it one more time," Woods explained. "I was pretty bummed out after not winning the Masters because I knew that was the last major he was ever going to see."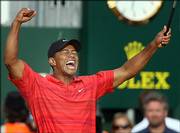 Earl would have been proud of this one, too, and not only because his son became the first since Tom Watson in '82 and '83 to defend the claret jug.
Tiger thought his way around Hoylake the way his father taught him to think.
Phil Mickelson may be renowned for his game plans at majors, but Woods took it to a new level by devising a strategy that took Royal Liverpool's devious fairway bunkers out of play and allowed him to fire at greens. In doing so, he became the first player to win a major without his driver, using it once all week, that on Thursday. That was the last time the famous Tiger head cover came off as he finished one shot off his own scoring record of 19-under set at St. Andrews in 2000.
Woods called it one of his best ball-striking weeks ever as far as control, especially since he had to hit so many long irons off tees and into greens - more, he said, than at any previous tournament. He wore out his 2-iron.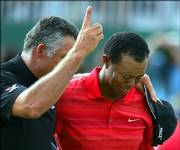 "If you ask Steve Williams, Tiger missed two iron shots all week and I guess you can put a third one on 12 today . . . so two iron shots in 72 holes," Haney said. "That's pretty zoned in the whole go-round."
It was the 11th time in 11 tries that Woods was able to protect a 54-hole lead at a major, and except for DiMarco, who pushed Woods with five birdies on the back side, Saturday's impressive leaderboard zoned out.
Jim Furyk found a bunker with his first approach shot and bogeyed the first two holes and three of his first seven. Angel Cabrera tripled No. 2. Even DiMarco (whose mother, Norma, died on July 4) blocked his opening tee shot and made bogey on the first hole.
Then there was Woods' playing partner, Sergio Garcia, appropriately attired in yellow. His high point was bombing his driver off the first tee to thunderous cheers. Then he impaled himself on his putter, missing a four-footer on the second and a two-footer on the third. As the round went on, the man who owns a 74.0 Sunday scoring average predictably folded under the pressure.
Woods shared the lead only once, that after Ernie Els birdied the par-5 fifth. Then Tiger got to the same hole, hit two perfect shots and sank a 25-foot putt for eagle. When Els failed to take advantage of a huge break - his tee shot bouncing back to the fairway from the out of bounds area on No. 8 - by promptly landing in the greenside bunker, the Big Easy was done.
Woods eventually put it away after his only bogey of the day, on No. 12, had allowed DiMarco to pull within one. He birdied three straight holes - Nos. 14, 15 and 16 - and that was the ballgame.
A "stress-free" walk up the 18th fairway allowed his thoughts to move to his father.
"When Tiger played the Masters, it was the only time I saw him try too hard. He wanted to win so badly, he couldn't execute," Williams said. "Today there was obviously a calmness about him. There was no doubt he was doing it for his dad."
Copyright 2018 The Lawrence Journal-World. All rights reserved. This material may not be published, broadcast, rewritten or redistributed. We strive to uphold our values for every story published.