Kansas City, Mo. — Even without his best stuff, Jered Weaver won again.
Struggling early with his breaking ball, the 6-foot-7 right-hander still became the first rookie in 25 years to win his first seven starts Sunday, pitching the Los Angeles Angels past the Kansas City Royals, 3-1.
Not since Fernando Valenzuela went 8-0 for the Los Angeles Dodgers in 1981 had any rookie launched his career with seven wins in seven starts.
"We're getting wins. That's all I really care about," Weaver said. "For my first seven, I've been able to do that. We've just got to keep it rolling, and hopefully we'll get good defense like we've been having in my seven games."
How good has the No. 12 pick of the 2004 draft been?
He went 62â3 innings in his second start against Kansas City, giving up three hits and one run. His ERA actually went UP - from 1.12 to 1.15 in 47 innings.
"What I was impressed with was the way Jered pitched around the fact he didn't have command of his breaking ball, although he wasn't missing by much," Angels manager Mike Scioscia said. "He was able to get his fastball over, and he threw some nice breaking balls when he had to. But he pitched without his best stuff."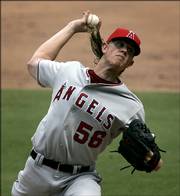 Robb Quinlan hit a two-run single and Adam Kennedy added an RBI single, sending the surging Angels to their eighth win in 11 games. They improved to 15-4 in July.
Weaver gave up only an infield single until the sixth, when the Royals broke through for their lone run. He was relieved by J.C. Romero after hitting Angel Berroa with a pitch.
This seventh straight victory, and the way Weaver got it, did a lot to boost his confidence.
"Being able to get people out when I didn't have my best stuff, it's definitely a confidence-builder," he said. "That was the big key."
Romero got out of the seventh and Scot Shields worked a scoreless eighth. Francisco Rodriguez pitched the ninth for his 25th save in 27 chances.
It was the first time Weaver has allowed more than two walks. While beating Baltimore, Cleveland, Tampa Bay, Seattle, Oakland and Kansas City twice, he's never given up more than five hits or two earned runs.
Still, the Royals were a bit perplexed.
"We sat around and talked about it afterward," Mark Teahen said. "He's not throwing anything up there we haven't seen. Not great stuff. But he makes his pitches, works both sides of the plate and he's got a little deception with that turn he's got. He's kind of throwing across his body. I feel like I saw him all right. But he's hot right now."
Quinlan had a two-run single off Brandon Duckworth (1-4) as the Angels beat the Royals for the 11th time in their last 13 games in Kauffman Stadium.
The Royals had only one hit - a second-inning single that was first ruled a fielder's choice - until Doug Mientkiewicz singled with one out in the sixth. With two outs, Teahen's double to left-center broke up the shutout.
The Angels took a 1-0 lead in the second when Kennedy's RBI single scored Juan Rivera, who was hit by a pitch with two outs. In the fourth, the Angels loaded the bases on a double and two walks, and Quinlan's bases-loaded single made it 3-0.
The Royals' first hit was originally ruled a fielder's choice when Berroa hit a sharp grounder to the right of shortstop Orlando Cabrera.
Cabrera made the pickup, then feigned a throw to first as Berroa, a good runner, sped to the bag.
Cabrera then threw to catcher Mike Napoli for an easy putout of Emil Brown, who made an ill-advised decision to try to score from second on the play.
Copyright 2018 The Associated Press. All rights reserved. This material may not be published, broadcast, rewritten or redistributed. We strive to uphold our values for every story published.