Kansas City, Mo. — Reggie Willits won't soon forget his first full major-league game.
Unaware he was going to start in center field, the rookie had no time to work up a nervous sweat. So he singled and scored in his first major-league at-bat. And then in his fifth trip to the plate, he drove across the winning run in the 10th inning in the Los Angeles Angels' 4-3 victory over Kansas City.
Could anyone have scripted a better night?
"I don't think you could," Willits, 25, said. "I had a lot of fun. I just appreciate every opportunity I get to go out there and play."
Todd Wellemeyer (0-1) started the 10th by walking the Angels' most dangerous baserunner. Chone Figgins then stole second and sped to third when catcher Paul Phillips' throw to second bounced into center field.
Willits, who singled leading off the game in his first major league at-bat, then hit a clean single, and Francisco Rodriguez worked around two walks in the bottom of the 10th to preserve the win.
"When you're put in a situation where you've never been before, you're always going to have a few nerves," said Willits. "But I was fortunate to get something to fall in early and help me relax."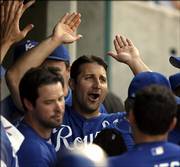 Scot Shields (6-6) pitched two innings for the win as the Angels stopped a three-game losing skid.
In the bottom of the eighth, Royals manager Buddy Bell and third baseman Tony Graffanino were both ejected by home plate umpire Joe West.
Graffanino was tossed after making a comment when he struck out. Bell was then tossed when he came out to complain.
Bell refused to discuss the incident.
"Nothing at all," he said. "I can't really say anything. I just didn't think it was warranted. Everybody knows Graf. He doesn't say enough to get thrown out."
Walking Figgins, the Angels' fastest baserunner, was asking for trouble, Bell said.
"You can't walk the leadoff hitter, especially Figgins. You walk a guy like that in that situation, you're going to pay for it," he said. "And we did. Then the stolen base and allowing the ball to go into center, you can't let that happen either. It just wasn't a very good inning."
The Angels tied it 3-all in the seventh when Kendry Morales scored from third on a wild pitch from Ambiorix Burgos, who had just relieved Luke Hudson.
David DeJesus had three hits for Kansas City. He singled in the first and alertly took second when Mark Grudzielanek flied out to deep center. A double by Doug Mientkiewicz scored DeJesus.
Mientkiewicz went to third when Matt Stairs singled, then Graffanino doubled into left.
Mientkiewicz scored but Stairs was easily thrown out at home.
Graffanino went to third on the throw and then made it 3-2 on an RBI single by Shane Costa, who had just been called up from Triple-A Omaha.
Willits' single in the first was followed by a triple by Maicer Izturis. With one out, Vladimir Guerrero made it 2-0 with an infield out that allowed Izturis to score.
Angels starter Kelvim Escobar, activated earlier in the day from the 15-day disabled list, went seven innings and gave up three runs on nine hits.
Copyright 2018 The Associated Press. All rights reserved. This material may not be published, broadcast, rewritten or redistributed. We strive to uphold our values for every story published.