Kenneth Tucker, 55, is on a mission every day at Southwest Junior High School.
The school's head custodian laughs, jokes and talks with the students throughout the day as he tries to help guide them through their junior high years.
Nearly 10 years ago, Tucker and his wife, Donis, lost their 25-year-old son, Domingo, after a bout with depression.
"That's why I try to change the lives of kids," Tucker said. "They are very important, and if I've changed one in the entire time I'm here, my entire time will be successful. And that's what I believe: Kids first."
Tucker moved to Lawrence in 1999 from Arizona, and he soon found a job at the school he has learned to love.
You and your wife moved here in 1999 so your wife could attend KU. How did you end up at Southwest Junior High?
When I came to Lawrence, the first guy I met was working for the school district. He helped me unload the truck. He said, "Do you have a job?" I said no. He said, "We'll go apply at the school district."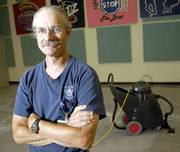 I had worked for two years as a custodian at Parker (Ariz.) High School. I also was working for Colorado River Indian Tribes.
They asked me if I would like to try working at another school, and I said no. I like it where I'm at.
What is a day like for you and your three-person staff?
My staff comes to work at 2:30 in the afternoon, and they clean all of the classrooms at night. Myself, I come in early in the morning. I open up the building, clean the locker rooms, clean the breakfast tables for breakfast.
After they are finished with breakfast, I take care of whatever needs to be done. I set up for lunch.
At lunchtime, I work in the cafeteria all through lunch taking up lunch trays, cleaning up spills or whatever else may come up. After lunch is over, I clean the cafeteria and serving area.
In the summertime, we literally go from one end of building to the other, cleaning from floor to ceiling, wall to wall.
Why do you like to work at Southwest Junior High so much?
I like it because you can watch the students grow. When they come in here, some of them are little guys, and some of them are grown up quite a bit. You get to watch them mature as people before they leave here. To me it's really rewarding to see that.
My favorite thing is the kids. That's why I'm here. I hope I've reached a child that needs some good guidance in his life, and I make a change in his life.
Are you a "neat freak" because you are a custodian?
With the size of the building we have, we do the very best we can. Some days we're not able to do so much because of other activities. Or someone may be sick, so you have to fill in, step back and help the others. You have to cut a few corners when you are short-staffed. We do try to keep it as clean as possible.
The biggest day-to-day challenge is the unexpected spills, or whatever. We have to experience sick kids. The biggest challenge is to just try to stay ahead of the game and not make it overwhelming, and make it fun.
What is one thing you would like to see changed about Lawrence?
I'd really like to see the city put in a skateboard park in the southwest part of town. They have one at Centennial Park; it's a long ways for the kids to go to.
Kenneth Tucker
Age: 55 Job: Head custodian, Southwest Junior High School Family: Wife, Donis, married 35 years; daughter, Keri, Mexico, Mo.; son, Domingo, died in 1996. Moved to Lawrence: 1999. Hobbies: Hunting and fishing at Clinton Lake. Why he enjoys his work: "I take a little pride in my job. I try to make it the best that I can for whoever walks in the building - not just the students."
Copyright 2018 The Lawrence Journal-World. All rights reserved. This material may not be published, broadcast, rewritten or redistributed. We strive to uphold our values for every story published.