Washington — Hailed six years ago as a breakthrough in safeguarding Russia's nuclear materials, a U.S.-Russian plan to rid the world of tons of plutonium has foundered and achieved little.
Even though the U.S. has spent $1.4 billion, none of the plutonium has been removed from the weapons stockpile, nor is any expected to be destroyed anytime soon. In addition, Moscow recently acted on its own to change the program so it better suits its energy goals.
With the Bush administration beginning talks with Russia on broader cooperation on nuclear energy, the troubled plutonium program sheds light on how difficult the negotiations between the countries can become.
At the just-concluded summit of world powers, President Bush and Russian President Vladimir Putin promised continued discussions on the program, which calls on each country to eliminate 34 metric tons of plutonium from weapons stockpiles.
Parallel tracks
The program got under way with great fanfare in 2000 as an "unprecedented" initiative to curb nuclear nonproliferation. The U.S. and Russia would work on parallel tracks to take the plutonium from warheads, blend it with uranium so it can be burned in commercial power-producing light-water reactors.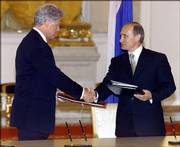 The amount was a fraction of the militaries' plutonium stockpiles. While exact numbers are classified, the United States is believed to have about 100 metric tons and Russia about 145 metric tons.
The program was seen as a way to get Russia to start destroying its excess plutonium, removing the possibility of theft in a country with fewer safeguards than the United States.
Originally, both countries were to build a plant to convert the plutonium to a mixed-oxide fuel - a blend of plutonium and uranium. That led to a string of problems as Russia didn't want to pay for its plant and there was a long dispute over who would be liable in case of worker injuries.
Costs increase
Russian officials said this year they no longer were interested in turning the plutonium into the mixed-oxide fuel, but wanted to burn the plutonium in a type of reactor that, under some conditions, can produce more plutonium than it burns.
Meanwhile, the estimated cost of the proposed U.S. conversion plant in South Carolina has jumped from $1 billion to $4.7 billion, and a second plant needed to take apart the plutonium pits removed from warheads has grown to $2 billion, four times what it was projected to cost five years ago, according to a House committee monitoring the program.
"Somebody ought to rethink the idea," said Rep. David Hobson, R-Ohio, chairman of a House Appropriations subcommittee that this year eliminated money for the program. The full House went along.
A Senate committee, however, wants to keep spending on the South Carolina plant - $335 million next year to start construction. But to reflect its displeasure with Russia, the committee eliminated $35 million that was to go to advance the Russian program.
Administration officials say the program is moving forward, and they want to start building the conversion plant this fall. They have accepted Russia's shift toward using a different kind of reactor, known as a breeder, and believe the Russians can start burning plutonium in four to six years.
Experts skeptical
"We're both going to get rid of it. They will be burning plutonium before we will," Linton Brooks, head of the National Nuclear Security Administration, said recently in response to questions about the viability of the program.
In a speech last week on nonproliferation, Brooks said the Russians "told us ... and told the international community that they remain committed to disposing 34 metric tons of plutonium. We expect them to keep this commitment and will work with them to achieve it."
But experts say Russia's small breeder reactor can accommodate less than one-third of a ton of plutonium a year, compared with four tons a year that the mixed-oxide program would have handled.
They say Russia really wants financial help from the U.S. and others to build a larger fast-breeder reactor that could burn more plutonium - and perhaps even produce new plutonium.
"We have feared all along that the Russians would try to leverage the plutonium disposition program to get a new breeder reactor," said Tom Clements, nuclear nonproliferation adviser to Greenpeace International.
Brooks said the United States remains "opposed to fast reactors that are used as breeders." He noted "fast reactors can be breeders or burners," depending on their configuration.
Hobson said he is convinced that the Russians never were interested in converting plutonium into mixed-oxide fuel to burn in a commercial power reactor.
"The Russians will technically live up to their side of an agreement," Hobson said in an interview. "But you need to understand how they view these agreements. They view them differently than we do."
Copyright 2018 The Associated Press. All rights reserved. This material may not be published, broadcast, rewritten or redistributed. We strive to uphold our values for every story published.