Montceau-Les-Mines, France — Floyd Landis' wild ride through France should end in the sweetest way possible today on the Champs-Elysees - barring a crazy finale and as long as his hip holds out.
In this Tour de France, anything can happen.
With yet another stunning comeback in the final time trial, Landis reclaimed the famed yellow jersey of the Tour de France leader Saturday along with a 59-second lead that should land him atop the victory podium in Paris.
The American would be picking up where another Yank left off just last year, when Lance Armstrong completed his seventh and final Tour triumph.
"I could not be happier," Landis said. "It's one of the best days of my life."
The Phonak team leader, who trailed former teammate Oscar Pereiro of Spain by 30 seconds before the penultimate Stage 19, outpaced the Spaniard by 1 minute, 29 seconds in the race against the clock.
Overall, Pereiro fell to second, 59 seconds behind Landis, while German rider Andreas Kloeden, 1:29 back, pushed Spaniard Carlos Sastre off the podium into fourth.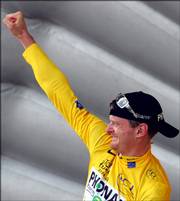 Today's ride could be the most anticlimactic moment of this unpredictable Tour, marked by Landis' bizarre performance swings - from despair to elation - and news that he's been riding with an arthritic hip.
Landis and Pereiro have taken turns wearing yellow four times since Landis first won it in the Pyrenees after Stage 11. Seven riders have worn the jersey this time - one short of the record.
"Hopefully, I won't give it away again," Landis said. "But I do think it's over now."
Landis became an instant legend among many cycling fans with his rage-fueled comeback Thursday, when he won the last of three Alpine stages to move from 11th to third in the overall standings.
After a strong ride Tuesday on the famed L'Alpe d'Huez ascent to take the leader's jersey for the second time in the Tour, Landis planned a conservative, Armstrong-like strategy.
That didn't work out.
Instead, he was forced to ride all-out after nearly crumbling in Wednesday's uphill finish in La Toussuire - where he lost the lead and fell 8:08 behind Pereiro.
The performance left him feeling "humiliation and depression," Landis said. A pep talk from five-time Tour winner and cycling icon Eddy Merckx, the father of his Phonak teammate Axel Merckx, helped.
Ukraine's Serhiy Honchar won the time trial by dominating the field just as he had in the first time trial two weeks ago.
Honchar finished the 35.4-mile course from Le Creusot to Montceau-les-Mines in 1 hour, 7 minutes, 46 seconds. Germany's Kloeden was second, 41 seconds back. Landis placed third, 1:11 off the winner's pace.
Copyright 2018 The Associated Press. All rights reserved. This material may not be published, broadcast, rewritten or redistributed. We strive to uphold our values for every story published.