Ross Randall has been recruiting and instructing talented golfers as coach of the Kansas University men's team for 27 years.
Randall, who played on the PGA Tour for eight seasons (1969-76), agreed to pick his perfect composite golfer, stealing strengths from players he coached through the decades.
Randall's picks and comments:
Best driver, Gary Woodland: "Incredible length and reasonable accuracy. When he is playing well, he really nails it. He's arguably the longest driver in the NCAA right now."
Fairway woods, Brad Davis: "He wasn't a super-long hitter, but he could reach par 5s in two. He made a number of eagles because he was such a good fairway wood player. That's one of the things we're going to emphasize this year, hitting 3-woods better and going for greens, instead of laying up all the time."
Long irons, Conrad Roberts: "If I could have gotten him to chip and putt as well as he struck the ball with long irons and woods, he would have been a tremendous player. He was good as it was."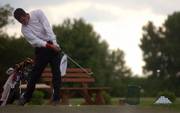 Middle irons, Ryan Vermeer: "He had a number of aces for us. One event in Indiana he was 200 yards from the pin on the last hole of the tournament. The guy he was playing with was beating him by three strokes. Ryan hit a 5-iron and landed it in the cup on the fly. The other guy had a double-bogey and lost."
Short irons, Matt Gogel: "Good pitching-wedge player, good 9-iron player. He's had a tough year (on the tour), but he's playing better lately, and if he can finish up strong, that should give him some confidence."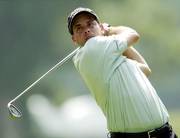 Bunker player, Tyler Shelton: "Any good player would rather be in a bunker than in the rough around the green."
Putting, Chris Thompson: "I'd say it's a tie between him and Gogel for best scramblers. Chris made a lot of really good clutch shots when it really counted."
Overall ball striker, tie, Roberts and Kris Marshall: "Conrad hits an absolutely straight ball. It's uncanny. Same with Kris."
Roll all these skills into one player and how good could he be? As good as Tiger Woods?
"No," Randall said without hesitation. "These guys are smart and ultra-competitive, but nobody is as tough as Tiger is. You could see that in college. Chris Thompson played with him when they were both freshmen and again when they were both sophomores. The first year Chris was scared, pulled his hat down and didn't say anything. The second time they chatted a little. Chris said he'd never seen a guy concentrate like that."
The composite golfer from Randall's 27 years at KU wouldn't beat Tiger, but would be "pretty darn good and pretty darn polished, somewhere in the top 50 players in the world. But it takes a special attitude and a special type of person to succeed on the tour. You have to be into yourself. You can't be asking everybody else how they're doing. It's a selfish sport. When they turn that little switch on, they go into their cocoon."
Words of wisdom
"The difference between golf and government is that in golf you can't improve your lie." - George Deukmejian
Randall was no different when he was on the tour.
"One time I was playing in a tournament and a woman dropped a baby out of the grandstand and everybody screamed," Randall said. "I was over the putt when it happened. I made the putt and the caddy said, 'Didn't that bother you?' I said, 'What happened?' I didn't hear anything."
Tip
By Ross Randall
Once you are finished reading the direction of a putt, block that out of your mind and think about nothing but the distance.
Three-putting is the worst thing you can do in golf and the easiest thing to do.
We have a saying: "Falling in love with line." If you're worrying about the line, thinking right edge, right edge, right edge, you're not going to think about hitting it the right distance, and the right distance is 17 inches past the cup, which is about half the length of your putter.
- Tipster Ross Randall is the men's golf coach at Kansas University.
This week in golf:
Hole
No. 8, Eagle Bend Golf Course
Par: 3. Yards: 195 (championship tee)
Hook it too far left and you're out of bounds. Fade it right and you're in the water. Miss the green left and you're in the rough. Fly the green too far and you'll be out of bounds. It's best to play this hole conservatively to get your par and remember that golf is a game of misses. If you're going to miss, it's best to miss short of the green.
Copyright 2018 The Lawrence Journal-World. All rights reserved. This material may not be published, broadcast, rewritten or redistributed. We strive to uphold our values for every story published.