Washington — Janet Jackson was in Washington this week to do ... something. Exactly what is unclear.
What we do know is that the R&B; diva took a short break from doing whatever else she does and deigned to spend about 15 mid-afternoon minutes in a chi-chi hotel ballroom, offering not very revelatory answers to questions about her personal life, her career, her fans and a forthcoming album, "20 Years Old" - an album that none of the reporters in the room had been given a chance to hear.
(Q: So, how is that CD? A: Might be the best thing we've never heard!)
The event, such as it was, was billed as "The D.C. Press Junket for the International Icon," and throughout the exercise in celebrity-journalism torture, said international icon - multiplatinum recording star, sister of Michael, flasher of nipple - offered very little beyond a look at her newly trim bod. Jackson, 40, generously shared that much of herself with the cameras.
Otherwise, Jackson threw very few bones to the hungry journalists and instead served a big, steaming bowl of nothing. (Not that you go to a Janet Jackson news conference expecting to hear a soliloquy on the stem cell debate or anything. But still.)
Jackson has more or less been in hiding since her infamous Super Bowl halftime show in 2004, and it was roughly 45 minutes past the appointed hour when she finally emerged in the Mandarin Oriental hotel's Grand Ballroom.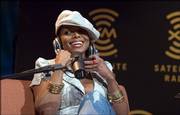 What was she doing behind that black velvet curtain all that time? Sit-ups? Makeup? Eating a cup of mixed veggies - which, we learned from reading Us Weekly, is a critical component of her new diet?
Before her arrival, Jackson sent out an advance team. It was led by her beau, the superproducer Jermaine Dupri, who was dripping in jewelry, a Louis Vuitton BlackBerry holster hanging from his hip.
"Sorry we're late," he said. "Dealing with traffic and other things in D.C." (Never mind that hotel employees said Dupri, Jackson, et al. had arrived at the hotel plenty early.)
After Dupri's introduction, Jackson came onto the stage, appearing shy and demure. She smiled uneasily. "Everyone's so quiet," she said. Nobody responded. "I wasn't raised in a quiet home."
She sat. The questions began. The assembled journalists had been given 3 1/2-by-4 1/4-inch notecards, along with instructions to write their questions and then pass them to the left, to a publicist-cum-moderator.
Why do you think you're so popular with gay people? she was asked.
In a mousy voice that kept fading out on the PA, Jackson said something about sometimes writing about gay topics, even though she didn't have to, and mumble mumble mumble.
There was another question about the new album, "20 Years Old," vis-a-vis the actual 20-year-old album, "Control," which was Jackson's first multiplatinum hit in 1986. She said there were some similarities, and she noted that some of the keyboards that had been used on "Control" were used on the new album, which comes out Sept. 26.
There were other questions, some more inane than others. Somebody wondered, via notecard, why Jackson had come to Washington.
"It's an important city like L.A., New York. It's a big city." Oh, the elucidation!
Any embarrassing party stories lately, Janet? (She hoped not.)
You gonna have kids? (Mebbe.)
What's it like working with your boyfriend? (Great.)
Anything to prove? (Nope.)
There was no chance for follow-ups, or late notecard submissions, so nobody could ask how she could feel that way coming off one of the poorest-performing studio albums of her career, 2004's "Damita Jo." (It was Jackson's first album since 1984's "Dream Street" that neither topped the Billboard charts nor went multiplatinum.)
Anyway, Jackson sat safely on a cushioned wicker chair, next to an end table on which two bottles of Fiji water, a glass and a candle were placed just so.
The moderator asked our most pressing question, as we wondered why Jackson was doing this. Press junkets are an atypical way for a recording artist to promote a new project. Discuss, please.
"I think it's nice to come up with something that's a little unique, to try to switch it up," Jackson said. "And it makes it more fun for me, too."
Later, she contradicted herself, when the moderator asked, on somebody else's behalf, what's good and bad about being Janet Jackson.
Good: Sharing your life with Jermaine Dupri! (Dupri dutifully nodded from the back of the room, where he was observing the proceedings from behind a pair of designer aviator glasses.)
Bad: Press conferences. (We dutifully nodded from the middle of the room.)
Note: This was the second of five news conferences Jackson's camp has scheduled, with others to come in Chicago, Atlanta and New York.
For the final question, the moderator read something passed along by a Voice of America listener in Iraq.
How do you want to be remembered?
Jackson seemed to want to get this one right. She squinted. She sighed. She leaned forward. She said, "I want to be remembered for making people smile."
Nobody in the room smiled. And then, it was over.
Copyright 2018 The Lawrence Journal-World. All rights reserved. This material may not be published, broadcast, rewritten or redistributed. We strive to uphold our values for every story published.