Baghdad, Iraq — Iraq's prime minister said Saturday he will urge U.S. officials to work for a cease-fire in Lebanon during his visit to Washington, saying Israel's "hostile acts" adversely affect the entire Middle East.
But a Shiite party asked him to scrap the visit in solidarity with Lebanon.
Prime Minister Nouri al-Maliki, a Shiite activist who spent years in exile in Syria, is expected to meet President Bush at the White House this coming week. Security in Iraq is expected to top the agenda after an increasing series of attacks in the Baghdad area.
But al-Maliki, who has been among the most vocal Arab leaders against the Israeli assault, said he also would raise the issue of Israel's attacks in Lebanon.
Last week, Israel launched a major military campaign in Lebanon, destroying much of the country's infrastructure, after the militant Shiite Hezbollah group captured two Israeli soldiers.
Lebanese officials say more than 300 civilians have been killed.
"The hostile acts against Lebanon will have effects on the region, and we are not far from what is going on in Lebanon," al-Maliki said. "We will speak with the United Nations and American government to call for a cease-fire quickly."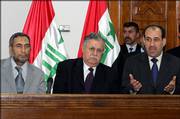 The United States, which has nearly 130,000 troops in Iraq, has resisted calls to press its ally Israel to halt the fighting.
Americans have made clear they oppose an early cease-fire unless measures can be taken to break the power of Hezbollah to attack Israel.
However, Hezbollah and its leader, Sheik Hassan Nasrallah, have a wide following among Iraqi Shiites, who comprise about 60 percent of the nation's 27 million people.
On Saturday, the Fadhila party, which is part of al-Maliki's Shiite alliance, urged the prime minister to call off the visit. Fadhila holds 15 seats in the 275-member parliament and dominates the provincial administration in Basra, Iraq's second-largest city.
"Fadhila demands that the prime minister cancel his visit to the U.S. in solidarity with the Lebanese people and over what is going on there, the disasters due to the Zionist aggression amid international silence about these crimes," party official Sheik Sabah al-Saiedi told The Associated Press.
It was unlikely that al-Maliki would call off the visit. Despite anger over Lebanon among many Iraqi Shiites, the Shiite political establishment has too much to lose politically by breaking with the Americans over the fate of Hezbollah.
Copyright 2018 The Associated Press. All rights reserved. This material may not be published, broadcast, rewritten or redistributed. We strive to uphold our values for every story published.