When the Republican gubernatorial candidates arrived at an evening forum in Johnson County, they were descended upon by the area's movers and shakers who were eager to get information on who the candidates were and what they believed.
"I feel like I'm clueless," said Kevin Jeffries, president of the Leawood Chamber of Commerce, when he approached one of the candidates.
With nine days until the Aug. 1 primary, a lot of Republicans are asking themselves, "Who are these guys?"
Who will represent the state's predominant political party in the November general election to take on Gov. Kathleen Sebelius, a Democrat whose re-election depends on getting large numbers of Republican and independent votes?
Second string?
"It's Gov. Sebelius against the pygmies," said Loren Smith, a political science professor at Washburn University.
When Republican headliners like U.S. Rep. Jerry Moran, U.S. Sam Brownback, Atty. Gen. Phill Kline and others decided not to run for governor this year, that opened the field up to what is commonly called the second string.
That includes Jim Barnett, a state senator from Emporia; Ken Canfield, a political newcomer from Overland Park; Rex Crowell, a former legislator from Longton; Dennis Hawver, the Libertarian candidate for governor in 2002, who switched parties to run in the GOP race; Robin Jennison, a former House speaker from Healy; Tim Pickell, an attorney from Prairie Village; and Richard Rodewald, a retiree from Eudora.
Most political observers say the race has come down to three candidates: Barnett, Canfield and Jennison, though Pickell, a former track runner, says he's "coming up on the outside."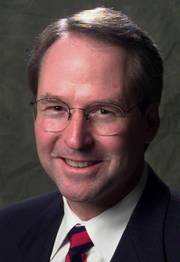 The race has drawn little interest. None of the candidates enjoys solid name identification. A SurveyUSA poll done in June indicated the candidates were unknown to 42 percent to 50 percent of voters and another one-third of voters were neutral toward the candidates. Only Barnett has launched television ads, and that was last week.
No pay, no play
"They don't have any money," Smith said of the candidates. "Money is the mother's milk of politics, and they don't have any."
Mel Kahn, a political science professor at Wichita State University, said, "When most people give money to campaigns, they are like investors; they want to see it pay off."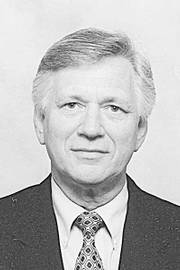 Kahn added: "The fact that Sebelius seems to be in such a strong position is probably having Republicans think there are better places to put their money."
Sebelius, who faces no opposition in the Democratic Party primary, has a reputation for attracting voters from the moderate wing of the Republican Party, and she had a daunting $1.7 million in campaign funds at the start of the year. The latest campaign finance reports are due Monday.
But Sebelius' sizable war chest hasn't stopped most of the GOP candidates as they criss-cross the state addressing small gatherings, shaking hands on Main Street and occasionally bumping into each other at forums.
Most of them are speaking in broad terms about improving the economy. With the exception of several minor dustups, the candidates aren't targeting one another but are aiming their criticisms at Sebelius.
While that tactic has generated little interest in the gubernatorial primary, the lack of a divisive contest may help the Republican Party unify in the November general election, Sen. Nick Jordan, R-Shawnee, observed after one forum.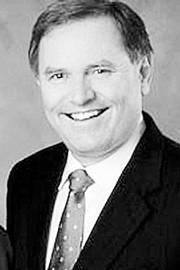 The field
Barnett, a physician-legislator who served on his local school board for years, describes himself as the front-runner, though most political observers say he may be splitting the so-called conservative vote with Canfield. Both have been endorsed by the anti-abortion Kansans for Life.
On the campaign trail, Barnett promotes his proposal to spur the economy by reducing taxes. He figures to do well in Wichita partly because of his lieutenant governor running mate Susan Wagle, a state senator from Wichita who has been a solid vote-getter there in her political career.
Canfield, an author-consultant who has spent much of his adult life promoting effective parenting techniques, says the state needs a fresh perspective in the Capitol. He says the state should help strengthen families, and has presented an economic plan that would create a $1 billion equity fund of bonds and private dollars to invest in new businesses, and he declares that intellectual property developed in universities would be free for use by businesses.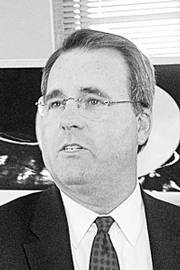 He plucked Rep. Kathe Decker, R-Clay Center, who is chairwoman of the House Education Committee, as his running mate, in part to deflect criticism that he has no political experience.
Jennison and his running mate, Dennis Wilson, a state senator from Overland Park, tout their governmental and business experience. Jennison was a leadership figure in the House, and then he got into the outdoors tourism business and lobbied for gambling interests.
With his western Kansas drawl and cowboy boots, Jennison has an easygoing style that has generated support. His western Kansas roots also help because that region tends to vote more heavily in the primary than other areas of the state.
Most observers say Jennison may draw the so-called moderate Republican support through the process of elimination, though Crowell and Pickell may compete for those votes.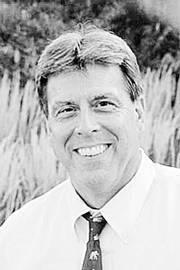 Crowell has a wide breadth of experience as a House member, rancher, attorney and school psychologist. One of his major proposals is to work with higher education to make Kansas a leader in producing alternative fuel sources.
Pickell calls for party unity at his campaign stops and has proposed that Kansas establish an independent state auditor's office to ferret out waste and mismanagement. The current auditor's office is under the authority of the Legislature.
Hawver has run for office several times as a Libertarian, calling for the elimination of much of governmental spending. He switched to the Republican Party this go-round and attends candidate forums dressed like a 1776 revolutionary, complete with long-flowing silver wig.
Rodewald, an advocate for property tax relief, has not actively campaigned.
Ann Doyle of Prairie Village, a writer and editor at a research institute, attended the candidate forum in Lenexa last week.
After the candidates summarized their views in three minutes each, Doyle said she was leaning toward voting for Canfield, but needed more information from the other candidates.
Realizing she probably wouldn't get another chance to speak with the candidates as they headed off in different campaign directions, she started to chase them down.
"I'm going to go buttonhole them now before they leave," she said.
Republican candidates for governor
Jim Barnett Emporia Age: 51 Family: Married to Yvonne, two children Religion: Methodist Education: Bachelor of Arts degree in chemistry from Emporia State University; medical degree from Kansas University School of Medicine Occupation: Physician Political and governmental experience: Elected to the Kansas Senate in 2000; member of Emporia board of education from 1991-1999.
Rex Crowell Longton Age: 62 Family: Divorced; four daughters, one step-daughter Religion: Christian Education: Bachelor's and master's degrees from Emporia State University, law degree from Washburn Occupation: Rancher, school psychologist and attorney Political and governmental experience: Served in the Kansas House from 1975-1994, on the Kansas Turnpike Authority board for 12 years and the local school board twice for 12 years. Vietnam veteran who received the Silver Star, Bronze Star and Purple Heart.
Ken Canfield Overland Park Age: 52 Family: Married to Dee; five children Religion: Christian Education: Bachelor of Arts from Friends University; master's degree from University of British Columbia; doctorate from Kansas State University Occupation: Consultant and founder of the National Center for Fathering and author of books on effective fathering Political and governmental experience: Has worked with governments on fathering initiatives
Robin Jennison Lenexa Age: 52 Family: Married to Coleen; two children from previous marriage Religion: Methodist Education: Attended Fort Hays State University Occupation: Lobbyist for gambling interests, partner in company that promotes tourism Political and governmental experience: Elected to the Kansas House in 1990 and rose to majority leader and in 1999, speaker
Tim Pickell Westwood Age: 53 Family: Married to Kim; three children Religion: Presbyterian Education: Bachelor of Arts from Westminster College, Fulton, Mo.; law degree from Kansas University Occupation: Attorney Political and governmental experience: Former vice chair of Wyandotte County Republican Party; past president of Johnson County Bar Assn.
Richard Rodewald Eudora Age: 70 Family: Divorced; two children Religion: Protestant Occupation: Retired automotive engineer Political and governmental experience: Has lost in campaigns for U.S. Senate, U.S. House and state Senate; has worked on behalf of taxpayers in property tax disputes
Dennis Hawver Ozawkie Age: 63 Family: Married to Jolayne Lyon; two children Religion: Christian Education: Bachelor of Arts and law degrees from Washburn University Occupation: Attorney Political and governmental experience: Has run as a Libertarian candidate for Congress and governor
Copyright 2018 The Lawrence Journal-World. All rights reserved. This material may not be published, broadcast, rewritten or redistributed. We strive to uphold our values for every story published.