Generally, Thelma Holloway enjoyed her weeklong road trip to Montana with her granddaughter, her grandson-in-law and her great-grandson.
Except for that one night.
She admits, in retrospect, that she should have called ahead for a hotel reservation in the Yellowstone Park area. Her grandson-in-law pointed that out several times as they drove for hours near the park, looking for a place to stay.
That irritated the 75-year-old Holloway.
"I finally said, 'Cool it, brother. We'll get there soon,'" Holloway says. "Going into (the trip), I had reservations in my mind. I thought, 'How can I stand them kids that long.' But I made up my mind that we were on vacation and whatever would happen would happen and I'd enjoy it."
Such are the occasional frictions of multigenerational vacations - a trend travel experts say is on the rise. More and more families are choosing to go on trips together, packing, grandma and grandpa, grown children and grandchildren - and maybe even great-grandchildren - into a car or plane for a week of bonding.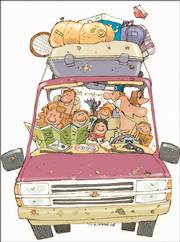 The Travel Industry Association of America says one in every three trips taken last year included at least three generations of family members traveling together.
"There are a number of reasons for this, such as grandparents are much younger and more adventurous today than they were generations ago," says Emily Kaufman, a travel author who wrote a book on traveling with family. "Another reason is that families have physically moved across the country for different reasons, and vacations are an opportunity to get together as a family. Also, after 9-11, we saw a real trend of families wanting to spend more quality time together."
'Priceless' trips
Emmett and Carole Mitchell have multigenerational family vacations down to an art form.
The Mitchells, who live between Lawrence and Lecompton, have been making them for nearly a decade, always bringing more than 10 of their family members from Kansas, Colorado and Wisconsin.
When Carole Mitchell's mother died, she left Carole money that the Mitchells now invest to pay for family vacations every two years. They've been to the American Virgin Islands, Yellowstone National Park, Voyagers National Park in Canada and to Michigan to go skiing.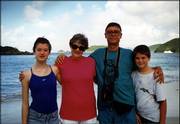 "With our trips, the grandkids experience something totally new every time we go," says Emmett Mitchell, 70.
"The family interaction is just priceless," says Carole Mitchell, 68.
She doesn't hesitate when asked for her top suggestion for a family wanting to try a big vacation together.
"We absolutely have to have a way to go our separate ways," she says. "That's a requirement every place we go."
Case in point: In 2002, the family rented a 56-foot house boat at Voyagers National Park. For the first time, everyone was basically constricted to the same area with - gasp! - only one bathroom.
Carole Mitchell remembers the trip this way: "At night it got a little hairy. One grandson is good at telling ghost stories, and he had the little ones up telling ghost stories until all hours of the night."
That, of course, cut into her sleep schedule.
Her granddaughter Rebecca Mitchell, now 22, remembers the together time this way: "I read a lot of books on that trip."
She opted to find (relatively) quiet spaces on the boat for some alone time.
Generally, Rebecca Mitchell, a student at the University of Minnesota, says she likes vacationing with her parents and grandparents.
"I'm very fortunate to have that opportunity," she says. "I have lots of friends who don't even have grandparents. Mine have so much energy, so it's good to be around them. Obviously, it can be frustrating at times - probably less for me than for my dad, being bossed around by his parents again."
Even when there are frustrations with too much family time, Rebecca Mitchell says, "It's hard to be angry with your grandparents anytime they're taking you to the Caribbean."
Playing host
For Linda and Bill Wilson of Lawrence, multigenerational vacations often mean hosting family at their house at the Lake of the Ozarks.
They just got back from a trip there with their son, daughter, son-in-law and grandson. They also have made similar trips to Mexico and to Kiawah Island, S.C.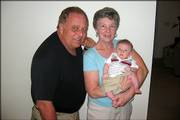 Linda Wilson, 68, says the family gets along well.
"I would say we're lucky when we get together," she says.
Her daughter, Tatum McCain, a 1995 Lawrence High School graduate now living in Plano, Texas, agrees. She's married and has a 3-month-old son, Riley.
"Our family gets along really well," McCain says. "We are a very close family - though I felt bad on our last trip to the Ozarks, because our dog was barking in the night and the baby was crying and I know we kept everyone up, so we probably drove them a little crazy."
McCain says she hopes family vacations remain part of her family's future plans.
"We will always plan on getting down to the Ozarks at least once a year with our little boy," she says. "My dad is so excited to teach him how to fish. It is really neat to see traditions will be passed down through the generations, as I remember my dad teaching me to fish when I was younger."
Linda Wilson says her keys to success for multigenerational vacations is to keep them fairly short.
"I don't know if it would work out very well for a month," she says. "Four or five days is good."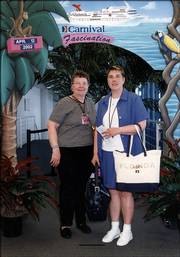 She also suggests figuring out the financial issues in advance, to save any friction during the trip.
Being flexible
That's also one of the tips suggested by Pamela Sublette, a travel consultant for AAA in Lawrence. That's why vacation with all-inclusive packages are increasingly popular with families, she says.
Sublette says trips to Disney World and cruises are the most popular multigenerational vacations among her clients.
"There's something for everybody," she says. "They can have dinner together and talk about their adventures that day."
And she says a common denominator among generations is relaxing at the beach or pool.
"I think the tip is to know there's a variety of things your can do - or not do," she says. "You still have that lounge chair."
Holloway, who in addition to her road trip to Montana has vacationed with her daughter to Jamaica and with other family to Branson, Mo., says her key to multigenerational vacations is flexibility.
"The important thing is to plan an itinerary, but to also leave room for extra side trips," she says.
Holloway says most of her family members have similar interests, which makes going on vacations easier.
"We have remarkably gotten along very well," she says. "We are very considerate and look over a lot of things. We've all been raised mostly the same, except the in-laws - and we just ignore them when things don't go well."
Q and A with the Travel Mom
Emily Kaufman has dubbed herself "The Travel Mom." She's the author of "The Ultimate Book of Family Travel" and makes frequent appearances to give suggestions for traveling with families. Here are some of her suggestions for multigenerational vacations.
Q. Why are more families trying multigenerational vacations? A. There are a number of reasons for this, such as grandparents are much younger and more adventurous today than they were generations ago. Another reason is that families have physically moved across the country for different reasons and vacations are an opportunity to get together as a family. Also, after 9-11, we saw a real trend of families wanting to spend more quality time together.
Q. What types of vacations lend themselves to having grandma, grandpa, the kids and grandkids all there? A. It is important to pick a vacation destination that really, truly offers something for every member of the family, and there are so many to pick from. Resort communities like Sandestine, Fla., or Walt Disney World lend themselves to these types of trips. Cruises are a perfect vacation for a multigeneration trip, too. Condos or rentals like Marriott Vacation Club properties are good for extended families because they offer a meeting spot and the opportunity for informal meals.
Q. What doesn't work? A. Things like sightseeing and other trips that require a lot of planning and transportation are not ideal.
Q. What tips would you give to people who are planning this type of vacation? A. It is very important to schedule down time for your individual family on a trip like this, to enjoy activities that suit you. 24/7 togetherness with anyone is not a great idea. You can also take advantage of the free, built-in baby-sitters and enjoy some adult time for Mom and Dad. It is also important for everyone to be clear about their time expectations before the trip takes place so no one feels disappointed once they arrive."
Q. How should you handle the money issue? A. The budget needs to be set ahead of time, and if anyone chooses to participate in extra activities that are not on the itinerary, it is the individual's responsibility.
Copyright 2018 The Lawrence Journal-World. All rights reserved. This material may not be published, broadcast, rewritten or redistributed. We strive to uphold our values for every story published.