Baldwin — Rob Flaherty admits to an ulterior motive for having students in his Expedition Planning and Leadership class take a course in wilderness first aid.
"If I die out there," Flaherty says with a smile, "they can pack me out."
Flaherty's joking, of course.
But there's nothing funny about a serious wound in the woods, and since Flaherty - a Baker University professor and acting associate dean of the College of Arts and Sciences - is taking his eight students and his father way into the woods, he thought it made sense to get them certified in wilderness first aid.
"You have to learn how to deal with an emergency when you're more than an hour away from definitive care," Flaherty said. "If you get a big gash in your arm in the city, they're going to pack it and send you off to the hospital. Out there, you can't do that. If you dislocate a shoulder, or sprain an ankle : those are things you have to deal with right there. If you're bleeding out there, you have to get it stopped. You have to deal with it there.
"I thought it was important to go out there with some knowledge."
So last weekend, the students took a class within the class.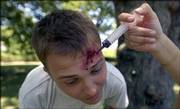 The National Outdoor Leadership School gave an intensive two-day course in wilderness first aid.
Wearing makeup and fake blood, "injured" students were used to portray victims of head wounds, overexposure, dislocations and the like.
Of course, Flaherty hopes the students won't have to put any of that knowledge to the test this week.
The group left Saturday and will return a week from today from the Flat Tops Wilderness Area, near Steamboat, Colo.
The trip is the culmination of Flaherty's Expedition Planning and Leadership class.
The destination is real wilderness, too, not just a short hike from habitation.
Flaherty said the plan was to hike about 50 miles over seven days.
"And some kids want to climb peaks," he said. "There's a 12,000-foot peak. Some want to fish. I want them to get excited about this. I don't want it all to be about coursework."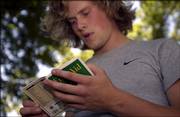 It's not a typical college course, but it's not unlike other Baker interterm classes, which often involve travel.
A difference, however, is the timing. Most interterm courses are held during the winter break.
That's part of what drew Jessica Uhler, a junior from Garnett, to Flaherty's course.
"It's a fun time, and it's in the summer," she said, adding other travel courses were more costly. "Plus, I run track, so I couldn't do a travel interterm in the winter."
A studio art and art history major, Uhler had a limited camping background.
"I was in Girl Scouts, but that doesn't really count. We were always within 15 minutes of definitive care in Girl Scouts," she said. "I'm a rookie. I'm a little nervous, but I'll be OK."
Footwear contributed to Uhler's jitters.
"Probably mostly because of the fact that my hiking boots are new and they're not broken in yet," she said with a laugh.
There's a range of outdoors experience in the five-man, three-woman class.
Some have spent little time outside. Others, like Ottawa sophomore Matt Warner, boast years of outdoors experience, thanks to the Boy Scouts.
"In Boy Scouts, you focus more on how to live your life," he said. "Here, you focus on leadership - how to lead a group."
Flaherty has taught other unusual courses before, like "Making the Band," in which students formed a band, wrote music - then performed for the final exam.
He also has taught courses in backpacking.
Working on a leadership-studies program, Flaherty thought melding camping and leadership was a natural marriage. It helps fulfill part of Baker's new leadership-studies minor.
"The leadership minor kind of gives you a background on any job that needs leadership," Uhler said. "It gives you the basics whenever you have to be a leader."
Uhler is prepared for the worst but hoping for the best this week.
"I'm sure on the trip (Flaherty) will bust out some scenario," she said. "He'll fake a sprained ankle or something and see how we handle it."
She thinks she knows how she'd handle a bloody injury.
"Blood is a very touchy thing for me," she said. "I can't deal with it. If somebody's bleeding, they're out of luck. I'd pass out before them. I'll splint your elbow. If you're bleeding, you're on your own."
Copyright 2018 The Lawrence Journal-World. All rights reserved. This material may not be published, broadcast, rewritten or redistributed. We strive to uphold our values for every story published.