Just more than a year ago, Rita Manning lived in Fresno, Calif., and was trying to figure out what to do with her life. She had raised five of her late husband's children, fought through major health problems and was looking for a way to shift gears and move on. She was 48.
Rita registered for a free ad on BBW Datefinder.com, an online dating service for "big, beautiful women and admirers." Rita qualified. She's attractive and in 1993 weighed 594 pounds. Following weight-reduction surgery, she lost 232 pounds and her acute diabetes, which had required four shots of insulin a day, disappeared. She was ready.
David Richardson has lived in Eudora most all his life, is 49 and never married. He responded to Rita's online ad.
"David said he liked what he read, sent me a message that led to e-mails and then we talked on the phone : oh, how we talked on the phone," Rita said, grinning.
It gets better.
About the time their phone conversations were warming up, Rita enrolled in a training program for over-the-road, 18-wheel truck drivers. And, as fate would have it, she and her instructor were about to drive across the country with a load of Tyson's meat. And they'd be driving through Kansas, not far from Eudora.
She and David agreed to meet just off Interstate 70 at exit 414. Rita would advise David on her cell phone as they approached the Kwik Shop at the exit.
David asked his brother Steve to ride along to the rendezvous.
"Hey, this could have been a scam : dark parking lot : maybe a couple who'd bop you in the head, take your car, your money," David said.
Audio Slideshow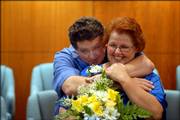 Couples - Manning and Richardson wedding
The couple saw one another for the first time in the convenience store parking lot off I-70, but not immediately.
David has a sense of humor. He had his brother walk toward the truck as he crouched behind him.
"I said 'That's not David,' but when he stepped out from behind Steve and I saw that smile, those dimples, he had me : he had me from hello," Rita said.
She soon moved to Eudora and after a short stint with an Olathe trucking company and a serious fall, she now drives a Eudora school bus.
"Hal Reusch is the best boss anyone could have and being around the students helps me not miss my grandkids so much," Rita said.
David and Rita were married June 30 by Douglas County District Judge Stephen Six in his courtroom. Rita wore a dark blue gown that she made for the occasion.
More than 100 people attended the couple's reception the following day at Eudora's Nottingham Elementary School.
One of David's talents is his ability to solve a Rubik's Cube, however disarranged, in under two minutes. He's been a cube fan since the 1980s.
"I made cake icing that looked like a Rubik's Cube and we handed out about five dozen Rubik's Cubes at the reception," Rita said. "People tried (in vain) to stump David all afternoon."
After the reception, Rita was talking about her new life, husband, friends and ZIP code.
"I found a really good friend and then some," she said. "David brought love back into my life."
Copyright 2018 The Lawrence Journal-World. All rights reserved. This material may not be published, broadcast, rewritten or redistributed. We strive to uphold our values for every story published.