Kelly Kohn says to hold off on the nickname - at least for right now.
She's sure that if the Kansas University women's basketball program improves, one certainly will come along.
"I think we're ready to earn one," Kohn said. "We don't just want to be given anything because we're a large incoming class. I think we're ready to go out and prove to people that we're ready to make a change, and we're ready to be a major aspect of KU women's basketball being put on the map."
So, for now, KU coach Bonnie Henrickson's "Super Seven" simply will be called by their individual names. It might not take long, though.
Already labeled as one of the best classes to come along in KU women's basketball history, the septet is here to prove that it's for real.
And also that Kansas is for real.
"It's up to us. The choice is ours," Kohn said. "The future of this program is the younger players.
"It's exciting. It's something that's put on us, but I think we're all ready to take hold of it."
¢ Henrickson knows it's not the same just down the basketball offices corridor.
In the men's game, talent is often snatched away by the NBA. Good players stay a few years. Great players stay one.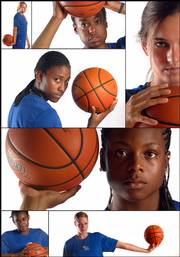 Not so in the women's game.
"We don't talk one-and-done on our end of it," Henrickson said, "and hopefully we won't."
Which makes this a unique opportunity from the fans' perspectives. Not only will they see the seven grow up individually at Kansas - they'll also see them grow up collectively.
"I think we've got a number of these kids that are going to have a great freshman year. I really believe that - they'll have fantastic years," Henrickson said. "But what's exciting is how long they'll get to play together and how much better they'll get with each other."
Henrickson knows the benefits familiarity can bring. During her playing days, she was a member of a four-person class in her freshman season at St. Cloud State.
"By the time our junior year came," Henrickson said, "we knew what the other was doing without even having to communicate."
The coach believes the same is possible with her newest group of players, especially with the luxury of keeping the players she has.
Michigan's "Fab Five" only stayed together two years. Bonnie's "Super Seven" could be together four.
"It's exciting to know that you have such potential right now," Kohn said, "and knowing that you have four more years just waiting ahead of you."
¢ From the minute Henrickson stepped onto the KU campus three years ago, she knew about Danielle McCray.
The coach knew all about her toughness and her ability to create and score.
What Henrickson didn't know was just how good of a recruiter McCray would be.
The Olathe East product, ranked 30th nationally by ASGR, committed during the middle of her junior year. She then attended the KU Elite camp in the summer with Lindsay Ballweg and Sade Morris.
"By process - by design," Henrickson said, "they met each other and started to recruit each other."
Soon McCray hadn't just given KU one prized recruit - she had helped with three.
Overland Park Aquinas' Ballweg and Norman (Okla.) High's Morris soon signed on with the Jayhawks.
"We just found out we have similar things we want to accomplish while being here," McCray said.
A class was beginning to form.
Porscha Weddington and LaChelda Jacobs both decided to latch on from Texas. Rebecca Feickert - after sending tapes of herself to Division I colleges across the nation because she had limited exposure in her North Dakota town of 163 - received an in-gym visit from the KU staff and later committed. Kohn signed after making a visit to Late Night and meeting some of the other girls.
"I think we kind of all sensed from each other that each one of us believes in the program and bought into it," Kohn said. "That's something more special than just you and your coach buying into it - it's you and your teammates."
Meanwhile, Henrickson was already preparing for the group's arrival on campus.
After the season concluded, she conducted weekly leadership sessions with returning players Taylor McIntosh, Sharita Smith and Jamie Boyd. The group read materials and discussed how they could best prepare themselves for the players that were to come.
"The upperclassmen are in the workouts with them, they're in the dorms with them. We just help them help those young kids," Henrickson said. "It takes our whole basketball family to help these girls."
¢ Henrickson has had players who wanted to be successful. So far, she has seen a little more out of this group.
"It's not just about winning," Henrickson said. "These kids are committed to training to win a championship, and there's a difference."
The training has included summer workouts, which start at 6 a.m. four days a week.
Through it all, the coach has seen some encouraging signs. One of which is that the seven always seem to be around each other.
"When you see one, there's going to be a couple more behind," Henrickson said. "They travel in packs, and I like that."
Jacobs said the teammates' relationship has stretched past the basketball court. They attend class together, shop together, swim together, and generally just hang out together.
"We're bonding so far, and we've only been here a couple of weeks," Jacobs said. "It's like we're close sisters already. I think that chemistry is really important for winning."
But just how far can this young group take Kansas? Kohn said the answer was in their hands.
"It's just how much preparation, how much hard work, how much dedication and really the overall effort we're willing to put into this program," Kohn said. "Anything's possible. Anything can happen."
Including the birth of an era in Jayhawk women's basketball - and maybe even a nickname to go with it.
"I guess as the season goes on, we'll think about that stuff," Jacobs said.
The Super Seven
Danielle McCray Height: 6-0 Position: Guard City: Olathe School: Olathe East HS Bonnie's Breakdown: Big, physical guard who is comfortable putting the ball on the floor; can penetrate and finish in the lane; player who can take and also make contact; an improved shooter; will be used to match up against taller guards in the Big 12; may be used in the post once or twice a game to expose mismatches and create easy buckets.
Lindsay Ballweg Height: 5-10 Position: Guard City: Overland Park School: Overland Park Aquinas Bonnie's Breakdown: Fantastic catch-and-shoot guard; runs the court well and is stronger than she looks; tough player; will be used in a similar role as Kaylee Brown was last season.
Sade Morris Height: 6-0 Position: Forward City: Norman, Okla. School: Norman HS Bonnie's Breakdown: Terrific slasher who can create her own shot in the lane; good passer; has ability to make the open shot; long and lanky athlete that will be helped with added muscle.
Kelly Kohn Height: 5-9 Position: Guard City: Adrian, Mich. School: Adrian HS Bonnie's Breakdown: Playmaking guard who is gifted athlete; shows great competitive fire as daughter of a high school football coach; often explosive on the court; gutsy player who will bring intangibles and leadership; has ability to catch and shoot; will be used at both guard positions.
LaChelda Jacobs Height: 5-10 Position: Guard City: Mansfield, Texas School: Mansfield Summit HS Bonnie's Breakdown: Quick and athletic guard who takes great pride in her defense; very strong at playing the passing lanes; can penetrate when needed; good shooter; will only get better as she gets stronger.
Rebecca Feickert Height: 6-2 Position: Forward City: Goodrich, N.D. School: Sheridan County HS Bonnie's Breakdown: At 6-foot-2, has the potential to be one of the team's best shooters from the outside; will be perfect for high-post position opposite teammate Marija Zinic; will force the defense to guard her with shooting range from perimeter; can put the ball on the floor to get her shot; could use more bulk.
Porscha Weddington Height: 6-1 Position: Forward City: Temple, Texas School: Temple HS Bonnie's Breakdown: An athletic forward with leaping ability; good finisher around the rim; plays physical inside like Crystal Kemp; runs well; still could use more strength.
Copyright 2018 The Lawrence Journal-World. All rights reserved. This material may not be published, broadcast, rewritten or redistributed. We strive to uphold our values for every story published.