Pottery is often decorated with words as well as pictures. There are hundreds of 19th-century Staffordshire plates with sayings from Poor Richard's Almanac - like "Say little but think much." Children's dishes were often decorated with ABCs or advice like "Diligence is the mother of good luck." The Torquay pottery in England made a line of pottery just for mottos, such as: "A choice plant may grow in a cracked pot" or the strange saying: "A reekie house and a guirnin wife, will lead a man a fashious life." But one of our favorites is a 1920s plate marked "Ye Olde English." The center design shows houses, trees and two large rabbits. The border reads "Some sing the praises of Camembert And others of Fromage de Brie, But neither compare with a Welsh Rabbit rare, For that's just the cheese for me." Part of the joke has been lost through time. The melted cheese dish called Welsh Rabbit was a rude reference to the poverty of the Welsh, who could not afford meat. Later writers changed the dish's name to Welsh Rarebit (rare bite), probably because it made no sense to name heated cheese "rabbit." Today either name is correct.
Q: I bought an old Napanee Dutch Kitchenet made by Coppes Brothers and Zook of Nappanee, Ind. It's a freestanding kitchen cabinet finished in white enamel, but it's much narrower than other Hoosier-style cabinets I have seen. What is it worth?
A: The Hoosier Manufacturing Co. of New Castle, Ind., introduced a popular line of freestanding multipurpose kitchen cabinets at the end of the 19th century. Over the next two decades, several other Indiana companies manufactured similar cabinets - and most collectors call all of these cabinets Hoosiers. The Napanee Line of Dutch Kitchenet kitchen cabinets was introduced by Coppes Brothers and Zook of Nappanee, Ind., about 1914. The first ones with white enamel finish were made in 1918. Napanee freestanding cabinets came in several sizes and with several combinations of storage units. Yours probably dates from the 1920s. By the 1930s, built-in cabinets were becoming popular. Your Napanee cabinet might sell for $200 or more if it's in excellent condition.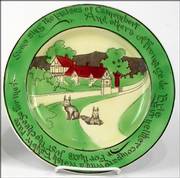 Q: I own an antique that looks like a brass needle. But it has two holes at one end and a tiny ball tip, not a sharp point, at the other. The hole closest to the end is a small oval, and the second hole is a half-inch long. Between the two holes on one side there's a tiny incised star. Inscriptions are incised on both sides of the needle. One side reads "Victoria I born May 24 1819"; the other, "Crowned June 23 1838." What is this strange needle?
A: Your needle is a bodkin - a multipurpose sewing tool widely used during the 18th and 19th centuries. It also appears to be a British royal commemorative honoring Queen Victoria. A bodkin's ball tip could poke holes in fabric or thin leather. But its main function, using the longer hole, was to thread cord or ribbon through a woman's corset, bodice or other piece of clothing. The smaller hole at the end could be threaded with a small jewel on a string so the bodkin could also be used as a decorative "hair needle." A woman stuck the needle in her hair, where it looked pretty and was also close at hand. Queen Victoria rose to England's throne when her uncle died on June 20, 1837, but her formal coronation didn't take place until 1838.
Q: I have a 4-inch plastic "Little Squirt" toy based on the Mannekin Pis fountain in Brussels. The toy figure wears only a light-blue pointed cap. When you fill the cap with water and put it on his head, the boy relieves himself. The toy is in perfect condition and in its original blue-and-yellow box, which lists the maker as "Commonwealth Products Co., New York 10, N.Y." What is the value?
A: Your toy, which dates from about 1945, is probably made of injection-molded polystyrene, a material more durable than celluloid but likely to become brittle. Styrenes were first molded in the late 1930s, but the technology took off after World War II and remained strong into the 1950s. Another clue to your toy's age is the two-digit postal zone in the maker's address. Postal zones were used from 1943 to 1963, when the five-digit Zip code was introduced. We have seen your toy, with its box, for sale at $12 to $20.
Q: We have a set of six monogrammed sterling-silver spoons that have been passed down in our family. The handles are curved and the pattern includes delicate roses and an eagle at the tip of the spoon handle. The tiny mark, next to the word "sterling," is "NSCO." What can you tell us?
A: An "NSCO" mark was used by Newburyport Silver Co. of Keene, N.H. But other American silver manufacturers, including the National Silver Co. of New York City, used similar marks, so you should check your mark against others in a book of silver marks. The Newburyport Silver Co. was founded in Newburyport, Mass., in 1904, but moved to Keene the following year. It closed in 1914.
Current prices
Current prices are recorded from antiques shows, flea markets, sales and auctions throughout the United States. Prices vary in different locations because of local economic conditions.
¢ "How to Cook with Budweiser Beer" cookbook, 1950s, 42 pages, $65.
¢ Jay and the Americans lighter, metal and plastic, image of all five band members, 1960s, Scripto Inc., 2 3/4 inches, $80.
¢ Coin silver punch ladle, Fiddle pattern, engraved sword with two intertwining snakes, 1920s, 14 inches, $175.
¢ Heintz Art inkwell, sterling on bronze, leaf-and-berry design, original insert, 6 3/4 inches, $275.
¢ "The Three Caballeros" lobby card, RKO Radio Pictures, 1945, 11 x 14 inches, $305.
¢ Lalique vase, blown-out figures of man, woman and Pan, acid-etched mark, 8 1/2 inches, $515.
¢ Sinclair Oil Dinosaur cookie jar, green glazed pottery, name on front, dated 1943, 9 x 10 x 10 inches, $560.
¢ Biedermeier fire screen, mahogany, shield-form needlework screen, earred crest, four scrolling legs, 1835, 28 inches, $645.
¢ Madame Alexander doll, Fairy Princess, composition, sleep eyes, red gown, 1938, 15 inches, $710.
Copyright 2018 The Lawrence Journal-World. All rights reserved. This material may not be published, broadcast, rewritten or redistributed. We strive to uphold our values for every story published.