The Lawrence Detonators, like many baseball teams, started preparing for their upcoming season early. But the Detonators meaning of early may have been a little different from that of a lot of teams. Early for coach Steve Walter's team meant as soon as 2005 gave way to 2006. In January they began practicing indoors once a week in order to prepare for their first tournament in March.
The practices have paid off for the Detonators, who now practice up to five times a week. The team went undefeated in the Douglas County Ameteur Baseball Association league, where that mark got them crowned league champions in the 9/10 DCABA division. They recently took second at the DCABA State Tournament. The team also placed second in the Youth Leadership Tournament of Champions, the United States Specialty Sports Association's 10U AAA State Championship and the Road to Omaha tournament. Walter identified two important reasons why the team has had so much success.
"The talent level of the kids and their commitment to learning and playing the game at a sophisticated level for their age group," Walter said. "They work hard and because of that and we can push them and lead them to a pretty high level of play for that age."
The team's commitment to hard work helped set up the early season success, but according to the coach, it was in Omaha where things really seemed to take off.
"It was a turning point in our season in terms of us feeling like we started to perform at the level we expected," Walter said. "It validated our expectations there and we were able to take second."
The tournament consisted of some of the toughest competition the Detonators had seen. Teams from Texas, Missouri and one from New Orleans made the Road to Omaha event something the team could hang its hat on.
"It's a very reputable, prestigous tournament," Walter said. "It's like a mini-national tournament because you play teams with higher levels than you see locally."
Many of the players said the Road to Omaha was one of their best experiences.
"It was something new for us," first baseman Bryce Montes de Oca said. "We went up against harder teams and it got us ready for nationals."
Utility infielder Cole Moreano agreed, saying they really played well as a team there.
Another factor in the team's success could be because of a coach who started coaching organized baseball in 1977. Walter coached at the collegiate level in football and in baseball. He left the college ranks behind about 10 years ago to coach T-ball. He remained there for three years before joining the Detonators.
Although sealing a victory is always fun, Walter said the best part about this team is "the kids."
"It's fun to work with and watch these kids grow," Walter said. "Not just as baseball players, but as men."
Many of the kids have been playing together for the three years that Walter has been coaching.
"Besides being teammates, they're good friends," assistant coach Joe Dineen, whose son Joe plays shortstop, said. "They're a unique group of kids."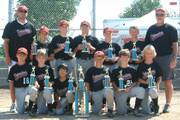 The players have made individual improvements all season. This has been third baseman Wilson Hack's first season with the Detonators and he was able to hit his first home run this season at league. His brother Weston, more commonly known as ".com" because he knows so much about sports and brackets, had his best pitching game against a big name team called Mac-'n-Seitz, which is a baseball academy in Kansas City.
"There are so many favorite moments with individual improvements," Walter said. "You see something click with a group or see someone struggle individually and then improve all the time. There are a lot of those during the season."
The team has impressed the coaches with its comeback spirit as well. At the State Tournament during pool play, the Detonators were down 6-3 against the Sandlot Classic team from Kansas City going into the latter innings. Things changed for Walter's team in the final inning, though, as the Detonators sent 18 batters to the plate and scored 12 runs, nearly going through their lineup twice.
"It was kind of a surreal moment," Walter said. "We put nine runs on the board before getting an out."
As staying around and preparing to get better is a big part of the team's routine, travel has been a part of the season as well. The team went to Steamboat Springs, Col. last weekend for the Triple Crown Nationals and it is in this aspect of the season where the players find some added enjoyment.
"Going to tournaments are where I have my best experiences," catcher Ryan Walter said. "We always have fun."
Copyright 2018 The Lawrence Journal-World. All rights reserved. This material may not be published, broadcast, rewritten or redistributed. We strive to uphold our values for every story published.