Beirut, Lebanon — Westerners fled by land, sea and air Monday as Israel sent ground troops into Lebanon briefly and Hezbollah rockets knocked down a three-story house in northern Israel. However, there were signs of movement on the diplomatic front to end the worst fighting in 24 years.
The exodus of tourists left downtown Beirut eerily silent, with the shutters down on fancy stores and restaurants in a stark reminder of the country's civil war. Israeli military officials said an airstrike in Lebanon destroyed at least one long-range Iranian missile capable of hitting Tel Aviv, where sunbathers, swimmers and paddleball players filled the beaches, determined to defy the guerrilla attacks.
By nightfall Monday, 210 Lebanese had been reported killed in the six days of fighting, according to figures provided to The Associated Press by the national police. Nine civilians, including two children, died in an afternoon airstrike on a bridge near the southern port city of Sidon, Lebanese officials said. At least 24 Israelis have been killed.
Early today, Israeli warplanes again pounded Hezbollah's stronghold in south Beirut and an area near Beirut's airport, witnesses and Lebanese media said. Four major blasts shook the city, and black smoke billowed from the southern suburbs.
A cruise ship, the Orient Queen, escorted by a U.S. destroyer was to begin evacuating some of the 25,000 Americans in Lebanon today, joining U.S. military helicopters that have ferried about 20 U.S. citizens to a British base on the Mediterranean island of Cyprus. More helicopter transfers were also planned today, a U.S. official said.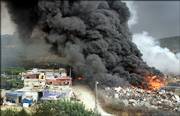 On the sixth day of its major offensive in Lebanon, Israel was allowing evacuation ships through its blockade of the country. France and Italy moved hundreds of nationals and other Europeans out Monday on a Greek cruise liner. An Italian ship with about 340 people - mostly Italians, but also some Americans - arrived in Cyprus, and other governments were organizing pullouts by land to Syria.
Diplomatic efforts
Diplomatic efforts gained traction with Israel signaling it might scale back its demands. Israeli Prime Minister Ehud Olmert said fighting would halt only if Hezbollah, a Shiite militia that controls much of south Lebanon, pulls back from the border and releases the two soldiers whose capture last week triggered the Israeli offensive.
An aide to Olmert indicated the prime minister was ready to compromise on the question of dismantling the Islamic militant group. But the aide said Olmert might oppose a U.N. and British idea of deploying international forces to Lebanon.
The current U.N. force in southern Lebanon has proven impotent and a larger, stronger force could hamper any future Israeli attacks, should any deal fall apart. Israel wants the Lebanese government to patrol the south.
In an impassioned speech to Israel's parliament, Olmert said the country would have no mercy on Lebanese militants who attack its cities with rockets.
"We shall seek out every installation, hit every terrorist helping to attack Israeli citizens, destroy all the terrorist infrastructure, in every place. We shall continue this until Hezbollah does the basic and fair things required of it by every civilized person," he said.
Hezbollah's patron Iran, meanwhile, said a cease-fire and prisoner exchange would be acceptable and fair. Israel has ruled out releasing any prisoners.
But Hezbollah dismissed international cease-fire proposals as "Israeli conditions" and accused foreign envoys of allowing Israel time to continue its offensive.
U.N. Secretary-General Kofi Annan's special political adviser emerged from talks with Lebanon's prime minister to say he would present Israel "concrete ideas" to end the fighting.
"We have made some promising first efforts on the way forward," the adviser, Vijay Nambiar, told reporters, while warning that much work needs to be done.
One U.N. official said Nambiar's mission had "very useful discussions" with Lebanon's prime minister and parliament speaker - an ally of Hezbollah's leader.
"They have agreed on some specifics, and this is going to be carried to Israel, and they will probably go back to Lebanon if they are a promising signal," said the official, U.N. Undersecretary-General for Political Affairs Ibrahim Gambari.
Despite Arab calls for an immediate cease-fire, the U.N. Security Council on Monday put off a response to the escalating violence to wait for the results of Nambiar's mission.
Other developments
Also Monday:
¢ Israel attack jets killed two people in the Beirut harbor and started a large fire.
¢ Warplanes set fire to a gas storage tank in the northern neighborhood of Dawra and another fuel storage tank at Beirut airport. The airport has been closed since Thursday, when Israeli jets blasted its runways.
¢ An Israeli airstrike in Lebanon destroyed at least one long-range Iranian missile capable of hitting Tel Aviv. Israeli military officials said aircraft targeted a truck carrying the weapons before they could be launched.
¢ Israeli fighter jets again hit the Beirut to Damascus highway, which has been targeted as part of a strategy of severing Lebanon's links to the outside world. Two people were killed, Lebanese officials said.
¢ Eight Lebanese soldiers were killed when Israeli jets hit a fishing port at Abdeh in northern Lebanon near a highway leading to Syria. Twelve Lebanese soldiers also were wounded.
¢ An Israeli missile strike on southern Lebanon missed its apparent target - a Hezbollah site - and hit a private house, killing two people, security officials said.
Copyright 2018 The Associated Press. All rights reserved. This material may not be published, broadcast, rewritten or redistributed. We strive to uphold our values for every story published.