The owner of three vandal-prone Jayhawk statues said he's ready to remove them from the Kansas University campus if the latest culprits aren't brought to justice.
Bill Muggy, owner of Jayhawk Bookstore, 1420 Crescent Road, and the three statues there, said the latest vandalism could be the last straw for the iconic sculptures.
The "Bit o' Hawk" statue was ripped from its pedestal and had its leg cut off.
"At this point, they're either going to be given a large coffin or retired if we can put it back together," Muggy said.
The statue, decorated with mosaic tiles, had previously been vandalized, as have other Jayhawks on Parade statues on campus.
But many of those incidents happened after KU football or basketball games, fueled by rivalries against Missouri and Kansas State.
This time, Muggy said, video footage showed at least one man in a Kansas University jersey with the number 13 on the back taking part in ripping the statue from its base.
Two other people - another man and one woman - also participated in the early Sunday destruction, the video showed. The vandals sawed off one of the Jayhawk's legs and took it with them.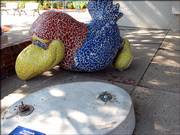 "It was their souvenir," Muggy said.
Muggy reported the incident to the Lawrence Police Department, who responded Sunday morning when store employees noticed the damage.
But Muggy said he had his doubts police would catch the criminals. He said police had done little besides taking a report and hadn't asked for the store's surveillance footage.
Police spokeswoman Kim Murphree said any evidence the store or others might have will become part of the investigation.
"We do look at all leads and all possibilities," Murphree said.
Meanwhile, Muggy said he would offer a $1,000 reward to anyone who approaches the bookstore or police with information about the crime.
Until that happens, Muggy will contemplate the future of the Jayhawk statues. He said he'll give it two weeks, and if the people who broke the bird haven't been found, he'll retire the statues from public life.
It's a shame, Muggy said. Many graduating seniors choose to get their photos taken in front of "Bit o' Hawk."
Plus, visitors always comment on the statues when they come to buy their books, he said.
"These statues," Muggy said, "they're totally irreplaceable."
Copyright 2018 The Lawrence Journal-World. All rights reserved. This material may not be published, broadcast, rewritten or redistributed. We strive to uphold our values for every story published.