Beirut, Lebanon — Two Marine Corps helicopters evacuated 21 Americans from Lebanon to Cyprus on Sunday, and U.S. officials urged others to wait for a formal evacuation plan before they try to leave.
The U.S. citizens evacuated Sunday included a family of four with a sick child and four students, said Maura Harty, assistant secretary of state for consular affairs.
She said the United States had receive hundreds of phone calls from Americans in Lebanon asking for instruction and urged them not to try to travel by land to Syria. U.S. security teams landed at the U.S. Embassy earlier Sunday to plan the evacuation for any of the 25,000 Americans in Lebanon who wish to leave.
"It is a situation in flux, in so very many ways," Harty said from Washington. "We are working 24-7 to get this done."
Israeli airstrikes targeting runways have closed down Beirut's international airport. Israel has also imposed a naval blockade on the country and has made road travel dangerous by targeting the main highway between Lebanon and neighboring Syria.
The U.S. Embassy, on a fortified hilltop in Beirut, was buzzing with activity Sunday. Witnesses said two helicopters flew in from over the Mediterranean and landed on the embassy grounds. Two more helicopters flew from the sea to the embassy later in the afternoon, witnesses said.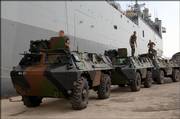 Air Force Lt. Sharbe Clark, a spokeswoman for U.S. Central Command in Washington, said survey and assessment teams had arrived to help with evacuation plans.
The U.S. said Saturday it was working on a plan to evacuate American citizens from Lebanon to Cyprus. American officials believe only some of the 25,000 Americans in Lebanon will want to leave.
"We obviously have plans and contingency plans should we need to bring people out," Secretary of State Condoleezza Rice told reporters at the Group of Eight summit in Russia. "I get reports on this every couple of hours as to how this is going."
U.S. officials made contingency plans to evacuate people who cannot leave on their own. Family members and non-emergency American employees of the U.S. Embassy in Lebanon have been given permission to leave.
About 350 people - most of them Europeans - were evacuated Saturday night and early Sunday from Lebanon to Cyprus aboard Italian military flights. Officials from several countries urged their citizens to put their travel documents in order, but not to attempt to leave unless it was safe.
France, with some 17,000 nationals living in Lebanon and at least 4,000 currently visiting, planned to begin ferrying to Cyprus Sunday any who wished to leave. Air transport would take the evacuees to Paris.
Britain dispatched two warships toward the Middle East on Sunday in preparation for the evacuation of Britons.
Copyright 2018 The Associated Press. All rights reserved. This material may not be published, broadcast, rewritten or redistributed. We strive to uphold our values for every story published.