When Kansas University crews recently began cutting down bushes in the Pioneer Cemetery on west campus, they made some historically interesting discoveries.
Obscured for years by the overgrowth were graves and markers tied to the city's earliest settlers, including the resting place of a young recruit killed during Quantrill's Raid.
"It's great to see these old stones," said Lawrence historian Karl Gridley.
Of the recently revealed stones, the refrigerator-size marker with the words Pioneer Cemetery commands the most attention - it is visible from Iowa Street. But it's not the most historic of the findings, Gridley said.
That title, he said, belongs to the long-missing gravestone of Walter B.S. Griswold, a young Union recruit killed during William Quantrill's murderous Aug. 21, 1863, raid on Lawrence.
"(Griswold) was one of 18 recruits who were camped by where the city parking garage (downtown) is now. They were all teenagers; they had one rusty musket between them," Gridley said.
"They were trampled to death by Quantrill and his men," he said. "Those who survived were shot and killed."
Photo Gallery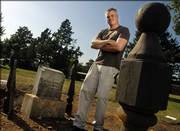 Pioneer Cemetery
Gridley had assumed Griswold's gravestone was "long gone." Instead, it was hidden beneath a giant juniper.
"It has a willow tree carved into the marble," he said, "and it says, 'Died on the Memorial morning August 21, 1863.'"
Many rescues
West of Iowa Street across from KU's Ellsworth Residence Hall, there now stands visible a big chunk of carved quartzite bearing the words "Pioneer Cemetery."
It's been there since 1928 when then-Mayor Robert Rankin rescued the city's original cemetery from neglect. But in succeeding decades, clumps of juniper bushes ran amok, obscuring the marker and several gravestones.
Kansas University workers removed several clumps of brush last week.
Among the findings:
¢ Carl C. Rau gravestone - Rau was an early German settler in Douglas County. Dated Nov. 4, 1855, his gravestone, inscribed in German, is one of the earliest extant in Kansas.
¢ John Oliver gravestone - Oliver died in Lawrence in 1861. This stone was placed in Pioneer Cemetery by his granddaughter, Hannah Oliver, a survivor of Quantrill's Raid.
¢ Monument to the Unknown Union Dead of the Civil War - A project of the Grand Army of the Republic, this obelisk was dedicated in 1906, marking the 40th anniversary of the end of the war. Some of the brick-and-stucco monument was visible before the brush was cleared.
Grazing cows
Pioneer Cemetery, first known as Oread Cemetery, fell into disrepair in the early 1880s, a victim of the city's more popular Oak Hill Cemetery. Despite Rankin's 1928 campaign, the cemetery again faded from public view by the early 1950s.
Then came KU Chancellor Franklin Murphy.
"What happened was Chancellor Murphy was out walking one day, getting his exercise - this was out in the country back then - when he noticed the cemetery and saw that it was is such poor shape," said Daryl Beene, senior vice president at the KU Endowment Association.
Pioneer Cemetery
"At the time, there were cows grazing on it," Beene said. "Iowa was a gravel road."
Murphy convinced the city to deed the property to the Endowment Association for a dollar. The university, in turn, agreed to maintain the site.
"It's become a nice, little quiet place on a busy campus in a busy city," Beene said.
Several KU faculty, staff and family members are inurned at Pioneer Cemetery, including: former chancellors Deane Mallott, W. Clarke Wescoe and Raymond Nichols; Elmer McCollum, KU alumnus who discovered Vitamin A; outstanding alumnus W. Fred Ellsworth; former Dean of Women Emily Taylor; and Del Fambrough, wife of former KU football coach Don Fambrough.
Among historians, Pioneer Cemetery is perhaps best known for being Thomas Barber's final resting place. Barber, a free-state settler shot and killed during the so-called Wakarusa War, was memorialized in John Greenleaf Whittier's poem, "Burial of Barber," which became an anti-slavery call to arms.
Copyright 2018 The Lawrence Journal-World. All rights reserved. This material may not be published, broadcast, rewritten or redistributed. We strive to uphold our values for every story published.