Beirut, Lebanon — Hezbollah and Israel traded fierce barrages for a sixth day today, as the latest eruption of warfare in the Middle East showed no sign of easing. Rockets struck deep inside Israel, killing eight people in Haifa, and Israeli planes bombed Lebanon from north to south.
The toll on both sides rose to above 200, most of them civilians, as strikes continued into today. In addition to the Israeli victims at a rail repair facility in Haifa on Sunday, an Israeli rocket blew up a Lebanese army position, killing eight soldiers, and a sea-launched missile killed at least nine people in the southern Lebanese port of Tyre.
Israel had warned of massive retaliation after the Haifa attack, and accused Iran and Syria of providing the weaponry used in it. Israeli military officials said four of the missiles were the Iranian-made Fajr-3, with a 22-mile range and 200-pound payload, and far more advanced than the Katyusha rockets the guerrillas had rained on northern Israel earlier.
Early today, witnesses reported that waves of Israeli airstrikes hit the Lebanese city of Tripoli and Hezbollah strongholds in eastern town of Baalbek. Barrages from gunboats killed four in a village south of Beirut.
Israeli missiles hit the Lebanese capital shortly after sunrise today, as three loud explosions rocked the southern suburbs while another strike sparked a large fire in Beirut's port, witnesses said.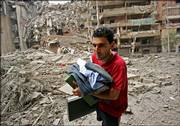 Israel, technically at war with Lebanon since 1948, said it had targeted radar stations in the north because Hezbollah had used them to hit an Israeli ship on Friday. It all but accused the Lebanese military of lending its support to Hezbollah.
No end in sight
The Group of Eight most industrialized nations, the United Nations, the European Union and Italy pushed ahead with separate efforts Sunday to try to end the fighting. But both Israel and Hezbollah signaled that their attacks would only intensify.
Israeli Prime Minister Ehud Olmert vowed "far-reaching consequences" for the Haifa attack, Hezbollah's deadliest strike ever on Israel. The morning barrage of 20 rockets came after Israeli warplanes unleashed their heaviest strikes yet on Beirut, flattening apartment buildings and blowing up a power station to cut electricity to swaths of the capital.
Even before the latest Israeli retaliation, Israeli airstrikes had devastated southern Beirut, a teeming Shiite district that is home to Hezbollah's main headquarters.
The Jiyeh power plant, on Beirut's southern outskirts, was in flames after it was hit, cutting electricity to many areas in the capital and south Lebanon. Firefighters pleaded for help from residents after saying they didn't have enough water to put out the blaze.
The Israeli military warned residents of south Lebanon to flee, promising heavy retaliation after the Haifa assault. "Nothing will deter us," Olmert said.
Seven Canadians of Lebanese origin, including several members of the same Montreal family, were killed by an Israeli strike on their village in the south where they'd come for a summer visit, Canada's Foreign Affairs spokeswoman Ambra Dickie said. Earlier reports had said eight were killed.
Along with the Lebanon attacks, Israel attacked along the second front where Israel is fighting, in Gaza. Fighter jets bombed the Palestinian Foreign Ministry in Gaza City, and clouds of smoke rose from the building, which has been hit before. At least nine people in nearby houses were injured, rescue workers said.
Hezbollah defiant
Hezbollah's leader, Sheik Hassan Nasrallah, said that despite the barrage, the guerrillas were "in their full strength and power" and that their "missile stockpiles are still full."
"When the Zionists behave like there are no rules and no red lines and no limits to the confrontation, it is our right to behave in the same way," a tired-looking but defiant Nasrallah said in a televised address. He said Hezbollah hit Haifa because of Israel's strikes on Lebanese civilians.
Nasrallah tried to rally the Arab world around Hezbollah, saying the battle was an opportunity to deal Israel a "historic defeat." Iran and Syria are prime supporters of Hezbollah and Hamas, raising fears the sides could be drawn into a regional war.
Still, they denied Israel's claim that they had provided advanced missile technology to Hezbollah.
After nightfall, Israeli missiles destroyed fuel depots at Beirut's airport. Hezbollah retaliated with rockets that exploded in the Israeli towns of Afula and Upper Nazareth, showing a longer range than previous barrages. There were no immediate reports of casualties.
Copyright 2018 The Associated Press. All rights reserved. This material may not be published, broadcast, rewritten or redistributed. We strive to uphold our values for every story published.