For each contending team to acquire even half of what it "needs" by the trading deadline, Bud Selig would have to shut down the central divisions of both leagues and hold a dispersal draft.
Although that might be great for television ratings in October, eliminate the necessity for revenue sharing and save Tony La Russa any undue heartache, the Braves still wouldn't be able to piece together a decent bullpen, and Peter Angelos would still own a baseball team.
So, we make do with Eddie Guardado saving the Reds' bullpen, at least until Gary Majewski and Bill Bray became available, and Aubrey Huff arriving about 20 hours too late to rescue Gary Gaetti's job as the Astros' hitting coach, and a lot of general managers picking through the rosters of the Royals, Pirates and Devil Rays, in case they missed something ... yesterday.
But these things are complicated, for the buyers and sellers.
Take Odalis Perez. As the adage goes, one man's "trash" (Odalis' word) is the same man's unfathomable economic burden.
In exchange for the occasional service of aiming for the best hitter in baseball's bat barrel, Perez gets $7.25 million from the Dodgers this season, $7.75 million next season, a $1.5 million buyout in 2008, and a $4.5 million signing bonus payable sometime between this November and next November.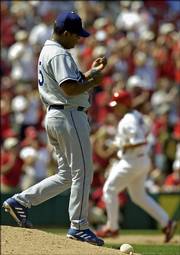 Trade Odalis Perez? And actually get a three- or four-limbed player in return? Ned Colletti would have an easier time trading Grady Little back to Boston, packaged with infield instructor Bill Buckner.
The point is, Perez gets all that money because he's a pitcher (the media guide lists him as such) who twice in eight seasons won more games than he lost, and because it is the rare general manager who is completely satisfied with his pitching.
Even mediocre pitching is attractive enough that the Yankees will make do with Sidney Ponson against the Mariners on Tuesday, the night after Jeff Weaver starts for the Cardinals and Kyle Snyder for the Red Sox. These are some of the best teams in baseball.
Supply is low, demand runs to code red, so the cost -- either in free-agent contracts or trades -- becomes potentially franchise-crippling. And it is partly why we're being asked to accept the notion of our first postseason without the Braves or Yankees in 16 years.
Copyright 2018 The Lawrence Journal-World. All rights reserved. This material may not be published, broadcast, rewritten or redistributed. We strive to uphold our values for every story published.