Imagine participating in a trail run at Clinton State Park in the Kansas summer heat.
That's difficult enough.
Now picture running up a hill comparable to the one at Kansas University on Naismith Drive, leading up to Jayhawk Bookstore.
And this hill wouldn't pop up until the conclusion of the race.
The obstacles of trail running were on the mind of Brian Binkley before the first XTERRA Stump Jumpin' Scramble at 8 a.m. Saturday. Binkley, a senior at Blue Springs (Mo.) High, never had participated in a trail run.
You'd never be able to tell. He won the 5k race in a time of 23:45.
"It was extremely hot and humid," Binkley said. "I was having a hard time breathing. I had to slow it down a bunch because all of the rocks."
An upward-sloping hill, about 10 feet wide and 100-200 feet long, concluded the race. The trail had pebbles and larger rocks on it and contained mud in places. By the end of the race, Binkley was nearly a minute in front of runner-up Jay Golonka, who finished with a time of 24:40.
"That was definitely a longer hill than I thought," Binkley said.
Photo Gallery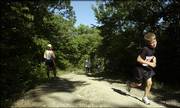 Scramble
Binkley was one of 88 athletes who ran on Saturday. The day consisted of two races: a 10k and a 5k. Nearly all participants selected one or the other, since the 5k started 10 minutes after the 10k ended.
Greg Burger, 39, was the only one who participated in both races. He placed fourth in the 10k and 10th in the 5k.
"I don't feel too bad," Burger said after the second race, as he poured two glasses of water on his head. "Actually, some of the guys that I train with are wanting to go for another hour."
This is nothing new to Burger, who said he ran 40-50 miles a week.
Trail running is not the same as running along a track or on the grass. Runners had to watch out for rocks, branches, mud and roots. Footwork was critical on the trail.
"If you're not looking down, you're going down, so you've got to watch the rocks," Burger said.
The path of the race led to a separate part of the park, away from the normal markings of the trail. It looked as if participants were running into a jungle. Trees surrounded the runners throughout the race.
To prepare for such an adventure, many participants said they drank lots of water the previous night and arrived at least an hour early to stretch and jog.
Others had different methods of preparing.
"You've got to train. You've got to get out there every day in the heat and get out there at 3 or 4 o'clock in the afternoon, then this is nothing," Burger said.
Caleb Chatfield, 26, won the 10k race in 35:07. Chatfield said trails with steep hills played to his advantage. He does various hill workouts on trails in the Kansas City area. Chatfield also was used to hills from his days as a student at Kansas University.
"I used to live down 14th Street, so I got accustomed to walking up that one every day," Chatfield said.
Chatfield, a Merriam resident, said Saturday helped prepare him for the Minnesota Voyager, a 50-mile run in Cloquet, Minn., in two weeks.
Like Burger, Chatfield said he wasn't finished running for the day. After he received his first-place medal for the 10k, he got ready to run another six miles.
Male and female participants came from around the country. Some suggestions for methods of success on the trail came from surprising ages.
"Usually we start out really slow, and then, at the very end, we sprint our way up the hill," 9-year-old Lawrence resident Daniel Clarke said.
Clarke, a student at Lawrence Catholic School's Corpus Christi campus, was the youngest runner. He said running up the hills was the toughest part. Mud was visible along the lower portion of his leg from when he fell twice on the trail. He was not injured.
In fact, Clarke will use this experience to enhance his running career, which already has started. Clarke said he had run in one-mile and three-mile races.
In the 10k race, Alexander Luedtke was second with a time of 36:44. Lyuda Anderson was third at 40:10.
Copyright 2018 The Lawrence Journal-World. All rights reserved. This material may not be published, broadcast, rewritten or redistributed. We strive to uphold our values for every story published.