Las Vegas — In poker, it's common to see pros covering up to keep from revealing their emotions and tipping their hands.
Phil "Unabomber" Laak hides his head in a sweatshirt hood. Phil Hellmuth zips up a mock turtleneck and plays with his hands in front of his mouth, while wearing sunglasses and a black cap.
Now, one of several TV programs attempting to cash in on the poker craze is peeling away those defenses with pulse monitors that players strap to their chests before taping.
Fox Sports Net's "Poker Dome Challenge" offers viewers further insight into the thinking of poker players, first revealed in how-to handbooks and then played out in real time with the widespread use of hole-card cameras beginning in 2003.
"These people are bare naked," said executive producer John Faratzis, an Emmy winner who turned down a job producing National Football League games to run the 43-week series.
"The interesting thing for me is to see whether that accelerated heart rate and that attention shows on their face," he said. "You get to find out: How astute a competitor are they? Can they mask that? Or are they truly a calm individual?"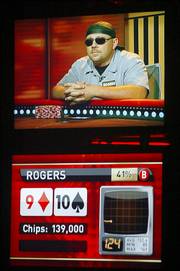 The "Poker Dome" features players who qualify on MansionPoker.net.
In taping for week two of the series, which began Memorial Day weekend, amateur Andrew Rogers displayed the most uncanny composure.
The 34-year-old poker league manager from Montgomery, Minn., had a heart rate of 160 beats per minute while sipping water during breaks - no doubt thanks to the two pots of coffee and six Red Bulls he said he drank before taping, and a pack-a-day cigarette habit.
In one hand, Rogers looked down at an unsuited jack-two, while his opponent, World Series of Poker bracelet winner Perry Friedman, held an unsuited three-two.
Despite constant betting by Friedman, Rogers called every time, while his heart rate dropped to about 140. He won the hand after two kings, a queen, an eight and a six were turned over as community cards - allowing him to win with just a high card.
"I knew he was trying to buy it," Rogers said afterward. "I knew he was betting small."
He eventually won the six-player round for $25,000 and the right to move on toward the series-ending $1 million prize.
"Poker Dome Challenge" is among several new shows that target a growing poker-playing audience, much of which gambles online.
The American Gaming Assn. says poker room revenues in Nevada and New Jersey alone rose 37 percent in 2005 to $207.2 million from the year earlier. But it also notes online gambling revenue hit a staggering $11.9 billion last year and is expected to double by 2010, despite being illegal in the United States.
In April and May, NBC's six-week "National Heads-Up Poker Championship," featuring 64 pros and celebrities, averaged 4.2 million viewers.
CBS started "The Intercontinental" poker series in June and will premiere the "Ultimate Blackjack Tour" in September. A poker movie, "Lucky You," starring Eric Bana and Drew Barrymore is in the works. And ESPN announced that it would add a pay-per-view showing of the final table next month to its annual coverage of the World Series of Poker.
For Fox Sports Net, poker programming, which includes "Poker Superstars" and "Learn from the Pros," provides one of its top three rated shows week to week, usually behind the "Best Damn Sports Show Period" or "Pride Fighting Championships."
The third installment of the "Poker Dome Challenge" attracted 200,000 viewers, the most in the network's 10 p.m. to midnight Sunday time slot for the quarter.
MansionPoker.net pays for the lavish production costs of the show and the broadcast reaches an advertiser-friendly demographic - men aged 18 to 49, said George Greenberg, executive vice president of programming and production for Fox Sports Net.
Reruns, because of their instructive nature, can do just as well as the originals, he said.
"Poker is a very durable piece of programming," Greenberg said. "It plays well, it rates well and it re-airs well. And for a programming person, that's a bonanza."
Copyright 2018 The Associated Press. All rights reserved. This material may not be published, broadcast, rewritten or redistributed. We strive to uphold our values for every story published.