Photo Gallery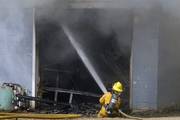 Fire at Perry auto shop
Firefighters this morning battled a blaze at an automotive garage at 204 Front St. in Perry.
Several area fire departments were called to the fire, which started shortly after 10 a.m.
Authorities said a gasoline tank ignited when it was being removed from a vehicle.
The cinder block and metal roof building, as well as the heat, made it difficult for firefighters to extinguish the fire, which smoldered for several hours.
Copyright 2018 The Lawrence Journal-World. All rights reserved. This material may not be published, broadcast, rewritten or redistributed. We strive to uphold our values for every story published.