About a week after their wedding, Lea King and her husband, Andy, both 31, were talking about the big event in their lives.
"When we were on our honeymoon in St. Lucia, we both agreed that our wedding day was the best day of our lives," Lea said with a big smile. "We were having so much fun ... the reception, the church, the flowers, the people, the reception, the food ... things could have been falling down around us, and we wouldn't have cared."
Andy did recall, with a smile, that his tuxedo was late arriving, which caused a little angst, and a couple of others were too big, but all survived.
Before June 9, Lea's last name was Chediak. Born in Lawrence, she graduated from Lawrence High School and Kansas University with a degree in journalism advertising. After working in Oklahoma City for a few years, she moved to Kansas City and today does advertising and public relations for Haake Companies, independent insurance brokers in Overland Park. She's the daughter of Dr. Elias and Gloria Chediak, Lawrence.
"Dad's a psychiatrist, and mom's a clinical social worker ... both are in private practice," she said.
Andy is from Lee's Summit, Mo., where he went to high school and played baseball for two years at Longview Community College. A carpenter by trade, today Andy's an independent distributor of Little Debbie snack cakes in the Kansas City area.
Audio Slideshow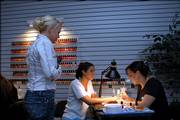 Couples - Chediak and King wedding
"Some of our friends joked that the flower girls should toss little powdered doughnuts instead of rose petals," Lea offered.
The couple met in the bride's living room. A mutual friend, who was Lea's KU sorority sister, brought Andy to Lea's St. Patrick's Day party. The group migrated to the restaurant O'Dowd's, and while waiting in line, Andy and Lea began a conversation.
"I love to dance, so I put my thrift shop fur in a chair, and later when I came back, Andy was holding my coat," she said. "I thought that was so sweet."
A month later, "right in front of my (Lea's) friends," Andy invited her to a friend's wedding on May 12, 2001. "So what could I say?" she recalled. "But I wanted to go anyway."
She'd been dating a man who lived in Denver.
The day after the wedding, she ended the Denver relationship. Lea and Andy have been a couple since Memorial Day, May 28, 2001.
"I knew she was a keeper," Andy said, "and I was so sure that I wanted to get married a couple of years ago."
They're both happy that they waited.
In retrospect, both agreed that wanting to get married and being ready for marriage were separate subjects.
"About a year ago, I went to Lawrence and talked to 'Doc' and Gloria and got their permission to marry their daughter," Andy said.
Soon after, he invited Lea to The Elms in Excelsior Springs, Mo. In the evening, they were in a hotel gazebo when Andy popped the question.
Did he drop to one knee?
"He did," Lea said laughing, "but he did it after he asked me to marry him."
The delayed action must have happened while Andy looked for a clean spot on the gazebo floor.
"Hey, I had on my good pants," Andy said.
Copyright 2018 The Lawrence Journal-World. All rights reserved. This material may not be published, broadcast, rewritten or redistributed. We strive to uphold our values for every story published.