Beirut, Lebanon — Waves of warplanes thundering through the darkness bombed Beirut's southern suburbs for hours early Sunday, a day after Israel stepped up its air strikes and tightened a noose around this reeling nation.
The Israeli air force on Saturday hit strongholds of the Hezbollah Shiite Muslim guerrilla group, bombed central Beirut for the first time, and pounded seaports and a key bridge.
Then, after midnight and until 2:30 a.m., about 18 powerful explosions rocked southern Beirut, where Hezbollah is headquartered and much of the air assault has been aimed since cross-border hostilities erupted Wednesday.
Israeli jets could be heard over the city, much of it darkened because airstrikes have knocked out power stations and the fuel depots feeding them.
Risks of civil war
Hezbollah's TV aired footage showing two long columns of smoke rising from buildings into the night sky. Much of Shiite-populated southern Beirut was deserted, its residents having fled east to Lebanon's Bekaa Valley.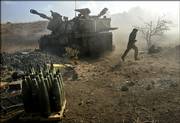 Trying to defuse the violence, which began when Hezbollah captured two Israeli soldiers and killed eight others in a cross-border raid, Lebanon's prime minister indicated he might send his army to take control of southern Lebanon from Hezbollah - a move that might risk civil war.
In a more ominous sign that the struggle could spread, Israel accused Iran of helping launch a missile that damaged an Israeli warship, a charge both Hezbollah and Iran denied.
Hezbollah, meanwhile, fired barrages of rockets ever deeper into Israel, and Israeli officials warned that Tel Aviv, 70 miles inside Israel, could be hit.
The death toll in the four-day-old conflict rose above 100 in Lebanon, and stood at 15 in Israel.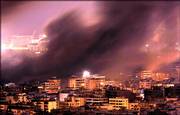 Diplomatic attempts falter
Despite worldwide alarm, there was little indication either Western or Arab nations could muster a quick diplomatic solution. In New York, Lebanon accused the United States of blocking a U.N. Security Council statement calling for a cease-fire. Diplomats said Washington for now preferred to see the issue dealt with at this weekend's Group of Eight meeting in Russia and in other ways.
The United States and France, meantime, prepared to evacuate their citizens, and Britain dispatched an aircraft carrier to the eastern Mediterranean in apparent preparation for evacuations.
Choking back tears, Lebanese Prime Minister Fuad Saniora went on television to plead with the United Nations to broker a cease-fire for his "disaster-stricken nation."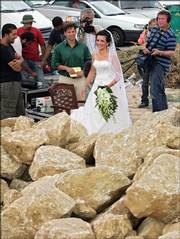 The Western-backed prime minister, criticizing both Israel and Hezbollah, also pledged to reassert government authority over all Lebanese territory, suggesting his government might deploy the Lebanese army in the south, which Hezbollah effectively controls.
That would meet a repeated U.N. and U.S. demand. But any effort by Saniora's Sunni Muslim-led government to use force against the Shiite Muslim Hezbollah guerrillas could trigger another bloody civil war in Lebanon. Many fear the 70,000-strong army itself might break up along sectarian lines, as it did during the 1975-90 civil war.
Reacting to Saniora's statements, Israel's Vice Premier Shimon Peres said Lebanon must prove it was serious by deploying troops on the border.
"We have to see what they do and not what they say," Peres told Israel's Channel 2 TV.
Iran, meanwhile, denied any role in the fighting, disputing Israeli claims that 100 Iranian soldiers had helped Hezbollah attack an Israeli warship late Friday.
There has been no sign in Lebanon of Iranian Revolutionary Guards for 15 years. But Iran is one of Hezbollah's principal backers along with Syria, providing weapons, money and political support. Many believe Iran and Syria are fueling the battle to show their strength in the region.
Copyright 2018 The Associated Press. All rights reserved. This material may not be published, broadcast, rewritten or redistributed. We strive to uphold our values for every story published.