At age 30 and wrapping up his final year of seminary, Erik Fish is a bit of an anomaly.
Nationwide, according to several studies, fewer young adults are headed toward careers in clergy.
Fish is director of Midwest Student Ministries, an affiliate of Lawrence's Morning Star Christian Church. He's finishing his degree at Fuller Theological Seminary through correspondence classes and an occasional trip to the seminary's campus in Pasadena, Calif.
He's pursuing a pastoral life to do mission work.
"I think there's something inside young people that they want to change the world," Fish says. "And I think in order for people to go to full-time ministry, churches have to adapt and give them an outlet for changing the world. Some people see ministry as sitting in a room and studying theology."
Experts say there has been a 20-year decline in the number of clergy under 35, especially among mainline denominations. That has some churches looking for ways to replace the many baby boomer ministers preparing to retire.
One mainline congregation, the Methodist church, recently completed a survey that showed the average age of its ministers was nearly 51.5, up from 46.8 in 1985. About 5 percent of Methodist pastors are under 35, down 15 percent 20 years ago.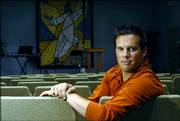 The percentages were similar among American Baptist and Episcopal pastors, according to the research.
The number of students in American seminaries increased 22 percent from 1994 to 2004, according to the Association of Theological Schools, which accredits Protestant, Catholic and Orthodox theology schools. There were 73,104 students enrolled in seminaries in 2004.
But students are more likely to seek employment other than being a traditional church pastor, according to the ATS. Half of male and 40 percent of female seminary students surveyed last year said their first choice was to pastor a church after graduation, compared with 60 percent and 56 percent, respectively, in 2000.
The Rev. Maria Campbell, who recently started as pastor at Central United Methodist Church, 1501 Mass., says she can understand why young adults might pursue a seminary degree to go into other fields. Campbell, 54, graduated in May from St. Paul School of Theology in Kansas City, Mo.
"It's a holistic way of learning, a holistic education, that addresses mind, body and spirit," she says. "In all professions, we'd serve people better that way. Obviously, there is no intention to raise accountants up from seminary. But for people who go into counseling, they can benefit greatly in a theological understanding from seminary."
Campbell briefly considered seminary in her early 30s but was starting a family then. She says she can understand why young adults shy away from becoming pastors.
St. Paul officials say 17 of their 325 students are under the age of 25, with another 41 under the age of 30. They say they've seen a 4 percent increase in the number of students under 30 since 2001, and 83 percent of students go into local church ministry.
"The call to ministry is a call to great responsibility," she says. "For young people raised in the life of the church, they realize how much of their pastors' lives are taken up in the life of the church, and how much it requires. For the people who are honestly serious about it, you realize you're handing over your life very early in your life."
'Nurture' new leaders
It took the Rev. Landon Whitsitt several years after college to make that decision.
Whitsitt, a native of Tonganoxie, attended Sterling College and moved to Lawrence for several years before deciding to attend Louisville Presbyterian Theological Seminary in Kentucky.
"I finally decided to give in to the call of God," he says.
Now 29, Whitsitt is program director for the Cathedral Heritage Foundation, which works to promote interfaith relations. He thinks he'll pastor a church someday, and he knows he would be among the few young adults doing that.
"I'm an anomaly in my church," he says.
Whitsitt thinks young pastors bring a sense of innovation and progress to churches.
"Einstein once said once people hit 50, they quit progressing in their thought process," he says. "I don't know if Einstein was true, but I think he was smarter than I am.
"If you're 55 years old, and you're married with kids, you might not be able to talk the language of the younger set. I think there's definitely benefits to having young folks in clergy and in positions of leadership, but only if we realize we're standing on the shoulders of giants and it behooves us not to piss those giants off."
Whitsitt credits Lawrence's First Presbyterian Church for giving him opportunities to serve on committees and urging him to attend seminary. He thinks mainline churches need to do a better job speaking the language of people in their 20s and 30s to attract them as members, then convince them to be clergy.
"Churches need to figure out how they can be welcoming to young adults," he says, "and help nurture that so they can realize seminary is the next step."
Bucking the trend
At the same time some mainline churches are searching for young pastors, the Rev. Ron Benefiel has plenty.
Benefiel is president of Nazarene Theological Seminary in Kansas City, Mo., affiliated with the evangelical Nazarene church. The school has around 375 students, up about 60 percent from an enrollment dip in the mid-1990s.
The average age for entering master's-level students is 26 or 27, Benefiel says, and about 88 percent of recent graduates are in church-based ministry.
He says he doesn't know exactly why seminaries like his are producing a higher percentage of clergy graduates than seminaries affiliated with mainline denominations, or why students are younger.
"If you look at the demographics of mainline churches, evangelical churches are more balanced across the board age-wise," he says. That, he says, leads to a larger pool of younger potential seminary students.
He also points to the eight Nazarene-affiliated colleges, which serve as a pipeline for his seminary.
But there are some trends that worry him. One, he says, is the shift toward church-based education to train pastors
"It's major competition for seminaries, whether people perceive for the future of that," he says. "They'll serve under a mentor pastor at a super-church and read or maybe take courses online."
Fish, who is currently working on his last class a Fuller Theological Seminary, says it's time for churches to start intentionally nurturing young people to be the leadership of the future.
"I think the best thing churches can do is to challenge young people to live a life where you're radically loving other people and loving God, and help them find an outlet for that," Fish says. "I think churches tend to neglect youth because they have no money. But youth are the future of the world. If you don't spend time with that, you're not being very wise."
Copyright 2018 The Lawrence Journal-World. All rights reserved. This material may not be published, broadcast, rewritten or redistributed. We strive to uphold our values for every story published.