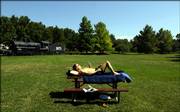 There's an old summer saying: "It's not the heat, it's the humidity."
On Thursday in Lawrence, it was both.
And don't expect any relief soon.
High temperatures in the mid- to upper 90s and steamy humidity levels are expected to continue through Monday, 6News meteorologist Matt Sayers said. Today's high is expected to be 96.
On Thursday, the temperature at Lawrence Municipal Airport reached a high of 96 degrees, and with a 60 percent humidity reading the heat index hit 116 degrees.
It sent people in search of fans.
"I've been getting requests for the past month and I've given out all I have," Linda Lassen, director of human resources at Penn House, 1035 Pa., said about her fan supply.
Lassen said she had given away 10 fans this summer, and would welcome donations so more could be distributed.
Winter Weather
Winter weather information
"We'll take anything that works and will cool people off," Lassen said. "I'm especially worried about the elderly."
Paul Hunt, human resources director at Ballard Community Center, 708 Elm St., also would welcome donated fans. He said he had one request for a fan Thursday.
A check of some basketball and tennis courts around town Thursday afternoon found them empty.
Take it easy
High temperatures and humidity levels mean that anyone who will be outside for extended periods of time or indoors without air conditioning should take precautions. Medical experts say people should: ¢ Drink plenty of water and avoid alcoholic beverages. ¢ Wear lightweight, light-colored and loose-fitting clothing. ¢ Use sunscreen with SPF 15 or higher and limit outdoor activities to mornings and evenings.
Despite the hot conditions, only one person had been treated for a heat-related illness in the emergency room at Lawrence Memorial Hospital, a spokeswoman said Thursday.The heat and humidity are expected to continue into next week, Sayers said.
"It's hot out there, but it's not record-breaking heat," Sayers said. The record high for Thursday was 111 degrees in 1954.
The National Weather Service issued a thunderstorm watch Thursday afternoon for areas north and east of Douglas County, including Leavenworth, Johnson and Jefferson counties, that remained in effect until midnight. There was a chance of rain overnight in Lawrence, Sayers said.
Copyright 2018 The Lawrence Journal-World. All rights reserved. This material may not be published, broadcast, rewritten or redistributed. We strive to uphold our values for every story published.