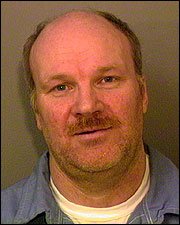 A 44-year-old prison inmate with at least three burglary convictions- each in a different Kansas county - has been charged with the murder of a Lecompton jeweler.
The killing was more than a year ago at the slain man's home on the Upper River Road.
In a press conference moments ago, Dist. Atty. Charles Branson and Sheriff Ken McGovern announced that Leonard W. "Battle Axe" Price- now an inmate at the Hutchinson Correctional Facility- is charged with first-degree murder in the death of 77-year-old Clarence David Boose on April 29, 2005. Branson said it appeared the killing happened when Boose was at home and Price burglarized it.
"No one should have to live in fear of violence in their own home," said Boose's daughter, Teresa Payne of McPherson, who today spoke out for the first time about the killing.
The charges come after a nearly 16-month investigation by the Douglas County Sheriff's Office and other agencies that involved 200 leads and 250 interviews. Until today, sheriff's investigators hadn't released any details of what led to Boose's death, and they still won't say how Boose died.
Branson said the investigation of the killing continues, and there could be additional suspects.
Copyright 2018 The Lawrence Journal-World. All rights reserved. This material may not be published, broadcast, rewritten or redistributed. We strive to uphold our values for every story published.