When it comes to decorating homes for the summer, everybody knows the drill: brighter colors, lighter fabrics, fewer of almost everything - like throw pillows and mantel tchotchkes. But use a lot of fresh-cut flowers, beachy-casual slipcovers, sisal and seagrass.
Here are some other fresh ideas for expressing summer indoors:
¢ Move the furniture. A room centered around a fireplace, for example, can be rearranged around a different focal point - a window, a bookcase or just a new side of the room. Try putting the back of the couch in front of the fireplace, or floating a chair and ottoman.
¢ Toss bright throws across the sofa and beds, nothing serious or expensive. Just pick two or three yards of a cheery fabric and, if you like, add simple trim - fringe, grosgrain ribbon or contrasting fabric. This can be sewn or not. Iron-on fusible webbing takes minutes.
¢ Switch lights. Softer shades (white linen, or even paper) are more suited to the season than heavy, ornate (or certainly black) shades. Or move lamps from room to room.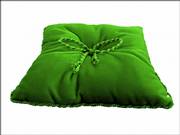 ¢ Tabletop displays. Scatter little clay pots (left natural or painted white) of herbs or grasses. Fill bowls with colorful lemons, limes or tangerines. Arrange glass containers of river rock, gravel or anything that reflects nature.
¢ White, white, white. Use all white in the bedrooms, which is crispy, cottony and cool. Add fans - ceiling, desk or floor models - for coolness and summer ambiance.
¢ Slipcover throw pillows rather than replacing them. Consider bright fade-resistant fabrics, such as Sunbrella, and use the same pattern indoors and out.
Copyright 2018 The Lawrence Journal-World. All rights reserved. This material may not be published, broadcast, rewritten or redistributed. We strive to uphold our values for every story published.