Daniel Dyck was a bit reluctant to admit his five-year fencing career was inspired by the swashbuckling heroes in the movie "The Princess Bride."
"I can't say that I'm completely innocent," the Kansas University senior said.
But Dyck isn't the only fencer with a taste for theatrics.
With each new spectacular sword-fight flick - think "Pirates of the Caribbean," "The Three Musketeers" - local fencing clubs experience a swell in attendance.
Dyck, who is president of the KU Fencing Club, said he doesn't know how many people begin fencing inspired by an on-screen sword fight.
But with the recent success of "Pirates of the Caribbean: Dead Man's Chest," which made $132 million over the weekend, he said he wouldn't be surprised if next semester's attendance is above average.
Neither would Brian McDow, who is the KU Fencing Club's head coach and president of the Lawrence Community Fencing Club.
Photo Gallery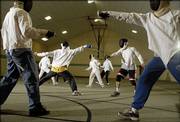 Swashbuckling
"There's a spurt for a little while right when the movie ends up coming out, then it drains off a little bit," McDow said.
Generally, about 20 to 30 people attend the KU Fencing Club. The Lawrence Community Fencing Club has anywhere between five and 12 fencers.
McDow and Dyck specialize in Olympic-style fencing. They don't use pirate swords, just foils or epees. To score points, fencers must touch the tip of their weapon to the opponent's body, which takes concentration, speed and accuracy.
But, McDow said, the swashbuckling in "Pirates of the Caribbean: Dead Man's Chest" is closely related to fencing.
"They know the principles, then they increase the flamboyance of some of the moves. They make them a little bit bigger, a little bit flashier. I can actually see what they're doing, they just do it a lot bigger than would routinely be safe if you were in a duel," McDow said.
More information about fencing
That kind of flamboyance often can inspire amateur fencers to come to their first practice ready to slice and dice like Captain Jack Sparrow.
On Tuesday, the Lawrence Fencing Club met at the First Baptist Church, 1330 Kasold Drive.
The white-clad fencers dueled as president and coach McDow watched and occasionally gave advice. When one duel began to look suspiciously pirate-like, McDow warned the fencers to "keep your parries low" and to "take it down a bit."
The key to "scoring a touch" in fencing, he told them, is to make small movements, not large, dramatic ones.
Greg La Rue, a Kansas University senior, said it was only his second time at a fencing club. But he'd already noticed why some other fencers were there.
"The first time I showed up here, people were like, 'so, do you like 'The Princess Bride'?" La Rue said. "It's a pretty big thing among fencers."
McDow said he welcomes anyone to try the sport, no matter how they became interested.
After all, he took up fencing after attending a Renaissance Festival eight years ago.
"Which is the other standard connection for fencing," McDow said. "Errol Flynn movies and Renaissance festivals - go figure."
Copyright 2018 The Lawrence Journal-World. All rights reserved. This material may not be published, broadcast, rewritten or redistributed. We strive to uphold our values for every story published.