Vielha, Spain — This could be the last Tour de France for Floyd Landis. If so, then at least the U.S. cyclist is determined to go out in style.
Landis, competing in cycling's most grueling race with what he says is a potentially career-ending arthritic hip condition, took the overall lead Thursday in the hardest stage of the high Pyrenees.
Landis didn't win the stage - that honor went instead to Russian Denis Menchov. But it didn't matter. The Pennsylvania native's goal was to distance key rivals, establishing himself as the favorite to become the heir to Lance Armstrong, his former teammate. He did so, with style.
The 30-year-old, who rebelled against his pious Mennonite upbringing to start racing as a teen, grinned broadly as he became the fifth U.S. cyclist in the Tour's long history to don the leader's prized yellow jersey.
"A dream come true," he said.
His performance offered a little clarity to the Tour, too. The race had been leaderless since a doping scandal knocked out several of the favorites before the start on July 1. Thanks to the Pyrenees, there's the beginnings of a hierarchy for the first time. Stage 11's five arduous climbs over 128 miles, under the hot sun, mercilessly whittled down the field.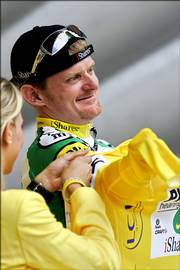 By the finish, at the Pla-de-Beret ski station above this Spanish town, just two riders had managed to cling to Landis: Menchov and fellow American Levi Leipheimer, looking to redeem what has been a horrible Tour for him so far.
Behind, still laboring up the gradient and on the short downhill to the line, were a host of riders whose names had been bandied around as possible contenders to fill the vacuum left by Armstrong's retirement last year and by the withdrawal of German Jan Ullrich and Italian Ivan Basso - sent home because of allegations they were linked to a doping ring in Spain.
Although the gaps that Landis opened up aren't as large as those that might come in the even harder Alps next week, they were still significant - if not decisive.
German Andreas Kloeden, runner-up to Armstrong at the 2004 Tour, finished 1 minute, 31 seconds behind. Portuguese rider Jose Azevedo dropped 4:10, as did Italian Gilberto Simoni. U.S. racer George Hincapie, another former teammate of Landis, put himself out of contention by trailing by a whopping 21:23. Basque rider Iban Mayo abandoned the race.
"It's just not coming together for me. Very disappointed," Hincapie said.
Landis took the race lead from Cyril Dessel, who held the yellow jersey for just one day.
Copyright 2018 The Associated Press. All rights reserved. This material may not be published, broadcast, rewritten or redistributed. We strive to uphold our values for every story published.