Making a "Little Bo Peep" or "Baa Baa Black Sheep" joke to Luke Wempe is a bit like making a "Wizard of Oz" joke to a Kansan.
"I've heard it all my life," Wempe said. "If you've got a new one I haven't heard before, I'd love to hear it."
For Wempe, an 18-year-old Lawrence High School graduate, raising sheep is a way of life and something he does well. This spring, he won a statewide Future Farmers of America award for proficiency in producing and marketing sheep, and in coming months he'll be judged against winners from other states in a national competition.
It's the first time in roughly a decade that a high school student from Lawrence has won a statewide FFA proficiency award, said Mark Rickabaugh, Wempe's former FFA adviser at LHS.
"He's a self-starter, I'll say that for him," Rickabaugh said. "He takes charge. He has a lot of initiative."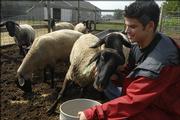 Wempe, the son of K.C. and Kari Wempe, lives on a farm south of Lawrence between Lone Star and Clinton lakes. He owns a share of his family's corporation, Syndicate Show Lambs, and helps care for a flock that includes five rams and 150 ewes, the breeding females.
Each year the ewes give birth to between 200 and 250 lambs that the family markets throughout the year. Some are bought to be shown at livestock shows, but many go to market.
"I don't eat sheep. It's one of my little quirks from being around them my whole life," Wempe said. "It's not going to make me all sentimental if I see someone gnawing down on a leg of lamb or something; it's just never seemed appetizing to me."
Luke Wempe on the secret of his successful sheep operation
Raising sheep involves daily farm chores such as feeding, watering and dispensing medications, but for Wempe it also means marketing the sheep through the Internet and building relationships with buyers.

He won the state FFA contest by submitting an eight-page application that described the business aspects of his farm, including detailed financial records of his operating income, assets and liabilities.
"We sell literally across the nation," he said.
This summer, Wempe is working as a part-time producer at KLWN radio and will attend Seward County Community College in the fall on a livestock-judging scholarship. He plans to major in broadcast journalism and possibly in advertising, but he said he would stay involved with the family farm.
Copyright 2018 The Lawrence Journal-World. All rights reserved. This material may not be published, broadcast, rewritten or redistributed. We strive to uphold our values for every story published.