Twenty-eight thrown strikes and four strikeouts later, Orioles' pitcher Kenzie Garvin celebrated.
Not only did she celebrate with her teammates, but with her father, mother and grandfather. All three are Orioles' coaches.
"It's kind of nice having everyone around," Jay Garvin said of he, his wife and father coaching the Orioles who edged the MittBurners, 6-5, Thursday in a Lawrence Girls Fast Pitch Assn. clash.
Of Kenzie's whiffs, dad Jay said: "There aren't many strikeouts in a game, so Kenzie's four were pretty good."
Ashton Edwards of the MittBurners noted it's difficult to hit the ball when you're facing a pitcher other than your coach in practice.
"It's harder because everyone does their windups different," Edwards said.
"The coaches throw meatball pitches," Jay Garvin said when asked why it's easier to hit the coach's pitches.
Still, in the first inning, though, the MittBurners didn't have much of a problem at the plate by scoring two runs. The Orioles countered with a run in the bottom of the first as MittBurner Sandy Haag made a nice catch to end the inning.
MittBurner coach Eric Hiebert said defensive plays like Haag's were the most positive aspect of his team's performance.
Kenzie Garvin struck out three batters in the top of the second.
"I tried to let go a little bit past my hips as hard as I can to try to get strikes. I tried my hardest," she said.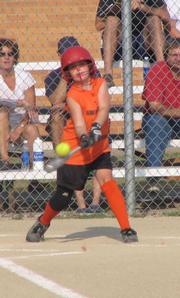 Jolona Shield, Brittany Brown and Courtney Nottingham each hit singles and scored a run for the Orioles in a five-run second inning. Cierra Hollins and Percich hit singles and also scored, giving the Orioles a 6-2 lead after two complete innings.
In the top of the third, both Daniella Smith and Chantelle Davis scored for the MittBurners.
More than any other inning, the Orioles heard "down and dirty" while they were on defense in the fourth inning.
"We use that to remind the girls that they need to get their gloves down on the ground and get dirty if they have to," Jay Garvin said.
Heading into the fourth and last inning, the MittBurners were only down by two runs. Orioles' closer Shield took the mound in hopes of adding a save to her statistics.
After one out, Haag singled, stole second and third and scored on Sidney Newlin's groundout.
But Shield enticed Raclei Gillespie to ground out to preserve the 6-5 victory for the Orioles and starter Kenzie Garvin.
Copyright 2018 The Lawrence Journal-World. All rights reserved. This material may not be published, broadcast, rewritten or redistributed. We strive to uphold our values for every story published.