Welcome, everyone, to the ugly side of being a college football player.
While many of us wonder how neat it must feel to be a hero in front of 50,000 screaming fans, to have a free college education and to have a sculpted body that's in peak shape, well, this is part of it. A hot summer day in Lawrence, where no fans are watching, where no football is present and where fun is nowhere to be found.
Summer conditioning.
On this day, the temperature gauge is well into the 90s at one of Kansas University's practice fields. No wind is there to help. After a while, the clouds disappear, and the sun beats down with added intensity.
At 3 p.m. sharp, KU strength coach Chris Dawson and three of his assistants have their whistles ready for a routine day in a long summer of workouts.
By the end of the running portion - with weight-lifting still left - the 24 players present are exhausted. Many obviously are in bad moods. All are waiting to dive into one of four water coolers stationed on a dolly off the edge of the field.
"This is speed-work day," Dawson said, and while the players bend over to catch their breath, wipe off sweat and dream of a cold shower, he deadpanned, "I don't think it's a very hard day."
Warming up
Simple calisthenics start the session, meant to loosen the leg muscles and get them ready for what's coming. It's not too intense, as Brian Murph, Eric Washington and Darrell Stuckey start laughing about something as they finish one set. But no one seems to be taking even the warmups lightly.
Audio Slideshow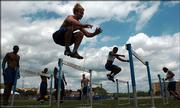 KU football summer drills
It's a random collection of two dozen players, except there are no linemen in attendance. Seniors like Murph and Washington are at the front of their lines. Junior-college transfer Marc Jones, an imposing physical specimen, is present. So are true freshmen like linebacker Maxwell Onyegbule, who has a huge frame for being just out of high school.
The linemen, as well as many other players with commitments during the day, work out in sessions that take place at 6 or 8 a.m. In all, 97 players are taking part in the summer program, which technically is optional, but certainly not wise to miss if playing time is desired.
After the initial stretching, three stations are set up.
One has three hurdles and a cone about 15 yards away. Players like Mike Rivera and Kerry Meier - who apparently are seeing which can grow his hair longer - go here first. The task is simple: At the whistle, the players jump off both legs over each of the hurdles. After the last hurdle, they sprint to the cone. Repeat. Repeat. Repeat.
To the untrained eye, no one seems to have problems with the hurdles, which is more than can be said about most humans. But assistant strength coach Corey Meredith sees something and pushes the players to get it fixed.
"No Toyota commercials!" Meredith yells. "Everything's straight up!"
The hurdles are raised until they're above the waist of the 6-foot-3 Meier. After several times through the line, the whistle is blown and stations are switched.
The other two stations involve a player securing a harness around his chest - shirtless for many of the two dozen players - and running sprints. In one station, a teammate holds a rope attached to the harness and resists the first player's running. On the other, the players pull a white sled, weighing about 30 pounds.
"This is nothing," said Joe Vaughn, a former player who now serves as an intern in the weight room. "We've put weights on them before."
On this day, the players are spared added weight to drag behind them. Still, the fatigue is starting to become apparent, and the worst is still to come.
As a team
Even conditioning drills at KU are set up to promote teamwork. After a short water break, the 24 players are divided into four groups - six linebackers, six defensive backs, eight receivers and four random offensive players - where team 40's begin.
Team 40's are 40-yard dashes done one group at a time but timed as the entire team. The linebackers go first, and as soon as the last one crosses the finish line, the whistle blows and the defensive backs go. Offensive players next; wide receivers finish it off. Once the last receiver crosses, the whistle blows and linebackers immediately go again, back the other way.
The goal is for everyone to do six sprints in 2:40. If everyone does his 40's in six seconds, that'd be an 18-second break between sprints, and everyone would get done in 2:24. With the heat and the tired legs, it takes a little longer - just under a seven-second average.
Four times, the two dozen players do this brutal workout. Some, like linebacker James Holt, always seem to finish near the front of the pack. Others struggle. Either way, Dawson is there barking at random players trying to get the most out of them.
"Let's go Marc!" he yells at Jones.
"That's it B-Mac! That's it!" to Brandon McAnderson.
"Here we go linebackers. Let's go Joe Joe!" to Joe Mortensen.
"C'mon Kerry! Let's go Quig!" to Meier and Angus Quigley.
Sprint-work day is only once a week, with change-of-direction day (the hard day, according to Dawson) done once, a position-specific day done once and an overall conditioning day with the entire team done once. Wednesday and the weekends are off days.
Before Independence Day, players lift weights first and run second. After July 4, the players run first and lift second.
Watching sprint after sprint leaves one wondering if there's any gas left in the tank for weights. After the team 40's wrapped up with a sub-2:40 team run, a long water break follows. Dawson takes the downtime to introduce the players to Murphy Grant, the new head football trainer.
They then have 10 minutes to get from the practice field to the Anderson Family Strength Center, where more work is waiting.
Bigger and stronger
Dawson said the weight-lifting sessions, besides being position-specific, are created with four different levels, depending on how physically developed a player is.
"Obviously," Dawson said, "our freshmen can't do what some of our seniors can do."
All freshmen start at level one, though the most developed can move up to level two or three quickly. Dawson sees eventual growth in about everyone, though some, like junior tight end Derek Fine, blossom quickly upon arriving in Lawrence and gain significant weight in no time.
Before a single weight is touched, though, more conditioning work must be done. The good news is, it's in the air-conditioned strength center. The bad news? Part of it is done on an inclined ramp going from the first floor to the second.
There, players get in push-up position and crawl up the incline sideways on hands and feet. After several of those, the players pair up and do wheelbarrows up the ramp, with Dawson and Meredith shouting encouragement.
"Too much wiggle!" Meredith shouts. "Too much wiggle!"
At one point, receiver Dexton Fields' triceps cramped up. Other players get the work done with similar, struggling grimaces on their face.
It seems the weights almost are a break from the intense conditioning training. Squats start the lifting, almost 90 minutes after the warmup calisthenics began the session.
Dawson didn't want to mention anyone specifically, particularly freshmen, when asked who was showing the most progress this summer. But he did say everyone showed improvement.
"They better be making progress," Dawson said, "or I'm not doing my job."
After the weights are put up for the day, the players finally make their way home. Some study, others relax and hang out before going to sleep. They will wake up the next day knowing all the ugly work waits for them all over again.
September can't get here soon enough.
Copyright 2018 The Lawrence Journal-World. All rights reserved. This material may not be published, broadcast, rewritten or redistributed. We strive to uphold our values for every story published.