Schlepping a load of dirty laundry from the bedroom to the basement or utility room can be a pain in the hamper.
That's one reason why more homeowners prefer locating the laundry room closer to the source of most dirty clothes and linen, according to a survey by the National Association of Home Builders. Some folks even are adding second washers and dryers to master-bedroom suites and guest rooms.
If you're planning to do the same - whether by adapting an existing space or building a new one - be sure to factor in the following:
¢ Structure. An engineer can help determine whether your home, or house plan, can accommodate a second-floor laundry. Planning the space, meanwhile, is best left to an architect, who can incorporate necessary mechanical changes into the design. Some considerations include floor joists, noise and waterproofing. Additional safeguards against water damage involve installing electronic shutoff valves, which automatically stop the flow of water when they sense a leak, and adding washing-machine drip pans.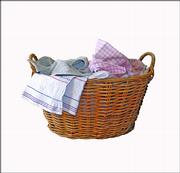 ¢ Utilities. Running new service lines with minimal demolition and disruption usually is the most challenging and time-consuming part of installing a laundry room on an upper floor. It's also the costliest step because building codes require that licensed professionals do much of the work. For example, you'll need a licensed plumber to install the service and drain lines, and a licensed electrician to pull dedicated lines for both the washer and dryer, including a 240-volt line if your dryer is electric.
¢ Appliances. Our tests of washers and dryers have identified a few strong but reasonably quiet models that should suit laundry rooms near living spaces. We like the top-loading Whirlpool LSW9700P. It combines good performance with a comparatively low price, $380, to earn distinction as a CR Best Buy. The front-loading Whirlpool Duet GHW9150P ($1,000) cycles through a wash in 65 minutes - quicker than most others we rated. As for dryers, we recommend the GE Profile DPSB620EC - a CR Best Buy at $580 - and the Kenmore Elite 6697 - $640, from Sears. Prices are for electric dryers; gas models typically cost about $50 more.
Copyright 2018 The Lawrence Journal-World. All rights reserved. This material may not be published, broadcast, rewritten or redistributed. We strive to uphold our values for every story published.