It's only a game.
If the Bobcats and Dragons of the third- and fourth-grade Recreation Baseball League didn't know before Friday, the players, parents and coaches found out during the contest.
Both teams entered with high hopes, flaring emotions and undefeated records.
Many times the opposing coaches jawed and after all the fussing was done, the Bobcats toppled the Dragons, 16-10, at Youth Sports Inc. fields.
"I've been waiting for this game and wanting to beat them since the beginning of the year," Bobcats coach Donald Greenfield said.
The Dragons were up first and their first four hitters reached base. Leadoff batter Gus Stone was lost on the bases, but teammates Zack Warren and Noah Housford each scored as Bowen Cunningham doubled.
However, the Bobcats grabbed a 5-2 lead in the bottom of the first as Eric McIntyre, Christopher Greenfield and three teammates scored.
Neither club scored in the second inning and the Dragons failed to plate a run in the top of the third, but the Bobcats tallied five more runs in the bottom of the third to boost their lead of 10-2.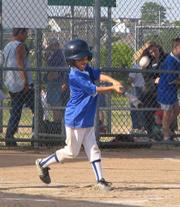 Ethan Johnson, Michael Blocker, Jordan Martin, Alec Lokay and Dylan Housworth each scored for the 'Cats.
But the Dragons were far from done. Cunningham slugged an inside-the-park home run to open the fourth and Joseph Snow followed with a triple and later scored, as did a teammate to cut the Bobcats' lead in half.
However, the 'Cats answered with another five-spot in the bottom of the fourth that was highlighted by a Blocker grand slam to take a 15-5 lead.
"He's been a big hitter all year. He cracks the ball," Greenfield said of Blocker.
In the fifth, the Dragons posted five runs and the Bobcats one for the final of 16-10.
All during the game, coaches of both teams often questioned the umpire's judgment on balls and strikes.
"The coaches apologized. Both were trying to give their players a chance to play," umpire Catherine Smith said.
Greenfield also apologized to his players and parents for his actions and emphasized that it was only a game.
"We're out here to have fun. That's it. It's all about the kids," Greenfield said. "I'm not out here pitching so I can look like Roger Clemens. It should be all about the kids."
Copyright 2018 The Lawrence Journal-World. All rights reserved. This material may not be published, broadcast, rewritten or redistributed. We strive to uphold our values for every story published.