Pittsburg — The Philadelphia Phillies haven't been big winners for a long time. Thanks to Ryan Howard and Bobby Abreu, they're tough to beat in the Home Run Derby.
Howard made certain his first trip to the All-Star game would be a memorable one, beating out the Mets' David Wright to give the Phillies their second derby winner in two summers.
"That'll give the fans in Philly something to cheer about," said Howard, whose 28 homers at the All-Star break tie him for second in the NL.
After homering into the Allegheny River earlier, the 2005 NL Rookie of the Year's fifth and decisive homer in the championship round banged off a "Hit It Here" sign above the right-field stands to give a lucky fan 500 free round-trip air tickets.
"I didn't know I'd hit the sign, but that's great," said Howard, who insists he hasn't tried to hit homers in batting practice since playing at Southwest Missouri State.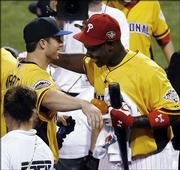 Howard also said he didn't try to reach the river on the fly, saying, "I was trying to take some good hacks, and it just ended up there. I just tried to relax and make sure it was a perfect pitch."
Wright, with Mets catcher Paul Lo Duca throwing to him, had a big edge after the first round with 16, or six more than any other competitor. But he had only six in the next two rounds, and Howard won the final with extra at-bats to spare.
"Once you get past that first round you want to win, so it's a little disappointing," Wright said.
Wright's 16 homers were the third most of any round in the derby's 21-year history, though he hit eight fewer than Abreu's record-breaking 24 a year ago in Detroit. Abreu went on to win the 2005 competition with 41, or 14 more than any other winner. He wasn't eligible this year after not being chosen for the All-Star game.
PNC Park, with its distant fences in left and left-center and short, 320-foot porch in right field, favors left-handed batters, but the right-handed Wright repeatedly reached the seats with ease.
But while Abreu's 24 homers did not carry over to the second round, a rules change enacted this year meant Wright's did. That gave the Mets third baseman a six-homer advantage over Boston's David Ortiz before any second-round homers were hit, all but guaranteeing Wright a spot in the finals even though he hit only two in the second round.
Howard made a big push to get into the final round, hitting 10 homers in the second round for a two-round total of 18 to tie Wright and bypass Ortiz and Florida's Miguel Cabrera. Cabrera had nine homers in the first round and six in the second.
"I just tried to get locked in, get some pitches and try not to make the last out," Howard said.
The totals did not carry over into the final round, when Howard outhomered Wright 5-4.
Ortiz hit 10 in the first round, down from his 17 of a year ago - the second most in any round since the event began in 1985. Ortiz's 31 homers at the break are the most ever by a Red Sox player.
But after hitting ball after ball into the Allegheny River on the fly or bounce in the first round, Ortiz fell off by hitting only three in the second round - just as he did in missing last year's final in Detroit.
Many derby hitters like to bring a preferred batting practice pitcher with them, but Wright might have been the first to rely on a fellow All-Star. Lo Duca tried to locate the ball where Wright likes it the most, down and in.
"I was a pitcher in high school," Lo Duca said. "Now you see why I'm not."
Copyright 2017 The Associated Press. All rights reserved. This material may not be published, broadcast, rewritten or redistributed. We strive to uphold our values for every story published.