Pittsburg — Kenny Rogers has gone from all-star scourge to All-Star starter.
One year after being one of the most scrutinized players at the glamour game - and for all the wrong reasons - the Detroit lefty was chosen by AL manager Ozzie Guillen to start tonight against the NL.
"He's the best pitcher right now in the American League," Guillen said Monday. "That's why he's there."
Rogers (11-3, 3.85 ERA) will oppose Brad Penny (10-2, 2.92 ERA) of the Los Angeles Dodgers as the American League tries to extend its nine-year unbeaten streak (8-0-1).
Rogers also got plenty of attention at last year's game in Detroit, several weeks after knocking down a cameraman during a tirade.
Then with the Rangers, Rogers was charged with a misdemeanor in Texas after videotape of the June 29, 2005, tantrum showed him walking onto Ameriquest Field in Arlington and pushing a television camera to the ground. He agreed to attend an anger management class to avoid further punishment.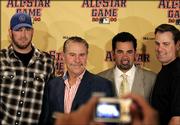 "It was very difficult," the 41-year-old Rogers said Monday. "I'd be lying if I said it wasn't hard, but I think I grew up with it and it made me a little better. ... Every challenge in my life that's come my way, I try to take advantage of anything I can learn from it and try to be better."
He couldn't have pitched better for the team with the best record in the majors, going 11-3 with a 3.85 ERA. Rogers will be well-rested - he hasn't started since Wednesday, lasting 52â3 innings in a victory against Oakland.
"Kenny Rogers will be my starting pitcher, and he will pitch 10 innings," Guillen, the White Sox manager, said in a joking reference to the Tigers-White Sox race in the AL Central.
That won't happen - starting pitchers are limited to three innings, and it's all but certain neither Rogers nor Penny will last that long. The last All-Star pitcher to go three innings was Greg Maddux of the NL in 1994.
Houston's Phil Garner will guide the NL, and the managers can't empty their benches or bullpens to get every player into the game in the first nine innings. With the outcome determining home-field advantage in the World Series, Garner said it's important to win, and he must preserve bench players and relievers for extra innings.
The unspoken reason: Baseball wants no future All-Star game to resemble the mess in Milwaukee in 2002, when the game ended in a 7-all tie after 11 innings because the teams ran out of pitchers.
The 28-year-old Penny also made his last start Wednesday, allowing two runs in seven innings against Arizona. He got one out in relief Sunday in the Dodgers' 3-1 win over San Francisco on Sunday.
Penny, traded by the Marlins to the Dodgers in 2004, has rebounded from a nerve problem in his right biceps that bothered him late in 2004 and into the 2005 season.
Guillen was limited in his choices as three top AL starters pitched Sunday: the Blue Jays' Roy Halladay (12-2), the White Sox's Jose Contreras (9-0) and the Twins' Johan Santana (9-5). Contreras was pulled off the AL team Monday and replaced by Twins rookie Francisco Liriano.
"There's a lot of guys that deserve to start, but it was unfortunate they pitched yesterday," said Rogers, who was chosen for his fourth All-Star game and his third in three seasons.
Rogers, one of only five active left-handers with 200 or more victories, will be throwing to his regular catcher in Ivan Rodriguez.
Copyright 2018 The Associated Press. All rights reserved. This material may not be published, broadcast, rewritten or redistributed. We strive to uphold our values for every story published.