Clyde Thierry, a long-retired carpenter, can't stand the thought of being in a nursing home.
"That's the last place I want to be - the last place before down there," he said, pointing toward the ground, his eventual resting place.
Thierry is 97 years old. He lives with his daughter, Daphne Payne. She's 70.
"I can do most things to take care of him," said Payne, a retired Lawrence teacher. "But I had a light stroke in January of 2005, so sometimes I get a little tired and I need a little help."
That's where Jayhawk Area Agency on Aging comes in.
"Our goal is to keep people out of nursing homes and in their own homes for as long as possible," said Jocelyn Lyons, a management team leader at Jayhawk AAA, which coordinates services for senior citizens in Shawnee, Jefferson and Douglas counties.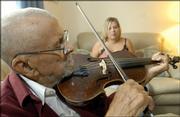 The Topeka-based agency on Monday was host to an "Independence Day Celebration" that gave some area legislators - Rep. Paul Davis, D-Lawrence, and Rep. Joe Humerickhouse, R-Osage City - an up-close look at services and their recipients.
In Douglas County, 213 senior citizens receive a variety of services - help with bathing, personal grooming, light housekeeping, meal preparation, respite care - through Jayhawk AAA.
The agency arranged to have Ashley Holder, a nursing student at the Neosho Community College's program in Ottawa, spend a couple of hours a day, three days a week, helping Payne care for Thierry.
"She gives me a break," Payne said. "It really helps. She lets me get out of the house. I don't like to leave Dad too much on his own alone."
Without Holder's help, Thierry might be in a nursing home, costing taxpayers more than $3,000 a month.
"She's very good to me," Thierry said.
Holder works for Trinity In-Home Care. Her services cost taxpayers less than $450 a month.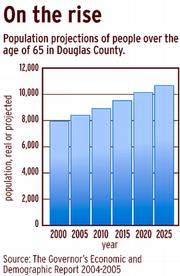 Thierry's case is a little unusual because he and Payne asked for help before they were desperate.
"Most families wait until there's a crisis - until their loved one has had a stroke and they're at the hospital trying to figure out what to do next," said Rex Ellebracht, a Jayhawk AAA case manager assigned to Douglas County.
"But the services are available now," he said. "They're available now - there's so much more we could be doing for people if they'd just call."
Depending on a person's circumstances, some services are available at age 60; others are at age 65. Some are free, while others are based on a sliding fee scale.
"What we do is case management," Ellebracht said. "We come out, we do an assessment on what services are needed, and then we do what we can to make those services happen."
Douglas County families needing help in caring for elderly relatives are encouraged to call Ellebracht's office in Lawrence, 832-0754. In Jefferson and Shawnee counties, call 800-798-1366.
Some of the Jayhawk AAA's services are provided through the Douglas County Senior Services, 745 Vt., including meals and a day program for adults.
Copyright 2018 The Lawrence Journal-World. All rights reserved. This material may not be published, broadcast, rewritten or redistributed. We strive to uphold our values for every story published.