Please, just not a roundabout.
City commissioners have heard plenty of that sentiment as they consider what, if any, improvements to make to the intersection of 19th and Louisiana streets near Lawrence High School.
"I'm personally horrified at the thought of a roundabout at that location," said Bob Blank, who has been a resident of the adjacent Centennial Neighborhood since 1952.
Neighbors may have a little less to worry about after tonight. For the second time in six months, Chuck Soules, the city's public works director, will recommend to city commissioners at their weekly meeting that a roundabout isn't the best solution for the corner, despite a previous report that suggested the controversial device would be appropriate. He's also not recommending a previous plan that would have significantly widened the intersection and taken several homes in the process.
Instead, just as he did in December, Soules is recommending an $800,000 project that would lengthen turn lanes to improve safety at the intersection, which had 29 accidents between 2000 and 2004.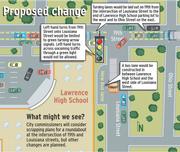 "We need to make some improvements there because we definitely have a congestion problem, and we have a safety problem there," Soules said.
Among the improvements planned for the intersection are:
¢ Lengthening the existing left-turn lane for westbound motorists on 19th Street. Currently the left-turn lane is less than a half block long. Soules is recommending that it be extended to Ohio Street to give more room for cars to make a left turn onto Louisiana Street. The longer lane may make it necessary to limit left-hand turns onto Ohio Street during certain hours.
¢ Changing the traffic light at the intersection to allow motorists to make a left turn onto southbound Louisiana Street only if they have a green arrow. Currently left turns are allowed on a green light.
More about the discussions
¢ Creating a center turn lane on 19th Street west of Louisiana Street. The turn lane would stretch to the westernmost entrance of Lawrence High School. Soules said that should help improve the flow of traffic by giving motorists a protected lane to turn into the high school and into the adjacent neighborhood. As part of the plan, Soules is recommending the easternmost exit to Lawrence High become right-turn only to help keep traffic moving.
¢ Adding a bus turn-out lane along Louisiana Street that would allow school buses to pull out of the traffic flow while loading and unloading students.
Soules said he believed the project could be built without purchasing any private property for additional right-of-way. He said the department would know for sure in about six months, once final plans for the project are completed.
19th and Louisiana
-->
Soules presented the proposed intersection improvements to commissioners in December, but they stopped short of approving them. Instead, commissioners told Soules to have further discussions with neighbors. Soules on Monday said he had not heard much support for the roundabout. He said he has concerns about a roundabout at the location because of its estimated $3 million price tag, and also because it likely would need to have two lanes to function properly.
The Lawrence school district also has come out against the roundabout idea, citing concerns about pedestrian safety. The Centennial Neighborhood Assn. also has opposed the roundabout option, but it has stopped short of endorsing Soules' plan.
Construction on the project - for which the city hopes to receive about $400,000 in state funding - would not begin until 2008.
Copyright 2018 The Lawrence Journal-World. All rights reserved. This material may not be published, broadcast, rewritten or redistributed. We strive to uphold our values for every story published.