Pittsburg — Brooks Robinson remembers his All-Star routine all too well: Show up for the game, shake a few hands and then get shellacked with the rest of the American Leaguers.
"I think I played in more losing All-Star games than anyone else," the Hall of Fame third baseman said. "It seemed like every year."
Just about.
Facing lineups stacked with Willie Mays, Hank Aaron and Roberto Clemente and staffs loaded with Sandy Koufax, Juan Marichal and Bob Gibson, it was no contest.
Boosted by better black and Latin players and spurred by a must-win attitude, the National League barreled over the AL the same way Pete Rose blasted Ray Fosse.
Robinson played 18 times - and lost 15. His last try was at Pittsburgh's Three Rivers Stadium in 1974, the same night Mike Schmidt made his first All-Star appearance.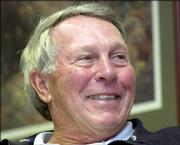 Infused with the likes of Joe Morgan, Johnny Bench and Steve Garvey, and built on the speedy, Astroturf style of the day, Schmidt & Co. extended the NL dominance. Playing purely for pride, rather than home-field advantage in the World Series, the Nationals won 19 of 20 from 1963-82.
"Everyone, including the AL team, knew we had the better talent," Schmidt said. "And we needed a team to beat, so the AL assumed that role."
Hard to believe it now. The AL owns the All-Star game, taking an 8-0-1 streak into tonight's matchup at PNC Park.
"The worm has turned," Fred Lynn said. "The NL still has stars, but not like us."
Lynn helped stop the NL's 11-game winning streak in 1983 when he hit the only grand slam in All-Star history. That was his last All-Star game - he'd lost the other eight.
"It was big for me personally, and big for our league," Lynn said during Sunday's festivities. "Before that, we were in transition. We were bringing new guys each year, and it was nerve-racking for them. You'd look over at the NL and it was the same team every year."
"I wouldn't say it was a mismatch, but they had our number," he said.
Since Lynn's slam, the AL has gone 16-6-1. Overall, the NL leads 40-34-2.
Robinson pointed to why the Nationals took over the game despite the likes of Mickey Mantle, Al Kaline and Harmon Killebrew on the AL roster.
"The NL teams did a better job of signing the black players," he said. "That was the difference right there. Definitely."
For 14 straight games, in fact, every outfielder picked to start for the NL was black or Latin. Hall of Famers Willie Stargell, Lou Brock, Orlando Cepeda and Billy Williams joined the Big Three of Mays, Aaron and Clemente.
Back then, too, there was a true separation of the AL and NL.
Consider this: Of the 44 players who participated in the 1967 All-Star game, not a single one had played in both leagues. Of the 58 who took part last July at Comerica Park, 22 had spent time in each.
Two-time All-Star MVP Gary Carter recalled his first game in 1975. A defensive replacement in left field for Rose, he caught Rod Carew's fly ball for the final out.
"There was this desire and pride to win," the Hall of Famer catcher said. "I remember Pete Rose saying the same thing. He said, 'Hey, we're not here just for a good time, we're here to win."'
During their huge winning period, the Nationals outhomered the AL 34-15, although Rose wrecking Fosse's career to score the winning run in 1970 symbolized their approach more than anything.
Also, league presidents marched into their clubhouses to give pep talks. Rose once described how Warren Giles "would come in and the veins in his neck would be popping out."
New York Yankees manager Joe Torre said the passion remains.
"That's why I sort of resent that the winning team gets to host the World Series," said Torre, an eight-time All-Star and a manager in six. "It's sort of like saying these guys need something to motivate them to play and that's not it. They're very competitive."
Only there's more desire on the AL side, Schmidt believes.
"The roles have been reversed. Now I imagine David Ortiz, Derek Jeter, Jason Giambi, Curt Schilling and all, assuming the role once held by Rose, Morgan, Stargell, (Dave) Parker and all, of leading the charge to remind all the other AL stars that the American League is king," he said.
"They now come with the idea that winning is important to them, and the NL just seems to show up," he said. "That's what happened when the NL dominated for so many years, back in the day."
Copyright 2018 The Associated Press. All rights reserved. This material may not be published, broadcast, rewritten or redistributed. We strive to uphold our values for every story published.